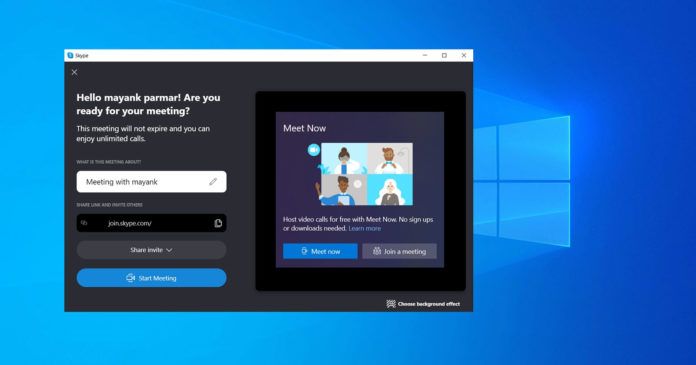 Meet Now in Windows 10 is a new feature that allows users to host and attend meetings remotely using Skype.
Meet Now taskbar icon was added to Windows 10 version 1903 or newer with mandatory December 2020 updates. Since the feature was formally announced, folks have had mixed feelings about Microsoft's approach, with some users calling 'Meet Now' bloatware.
To hide the Meet Now taskbar icon, you can simply right-click on the new video icon on the taskbar and select 'hide', as shown in the screenshot below.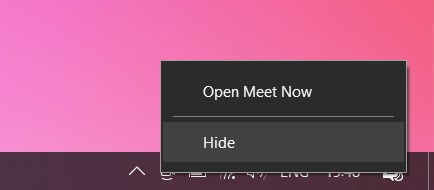 If you're still unable to hide the icon, you'll need to open taskbar settings or Group Policy Editor to permanently disable the Meet Now feature.
How to hide Meet Now icon in Windows 10
To hide the Meet Now icon on the taskbar, use these steps:
Right-click your taskbar and select "Taskbar Settings."
In the Settings window, scroll down and tap on "Turn system icons on or off" link.
Locate the "Meet Now" icon in the list.

Select the option and toggle it to "Off" by clicking it.
How to remove Meet Now icon on taskbar
If the icon is still pinned to the taskbar or the system tray, you can also remove the icon with these steps:
Head to Settings > Personalization > Taskbar.
Click "Select which icons appear on the taskbar" under Notification area.

Select the Meet Now notification icon and it will disappear from your taskbar.
Disable Meet Now icon on taskbar using Group Policy Editor
Group Policy Editor gives you a set of rules to govern the way the Meet Now feature operates in the OS. To permanently disable Meet Now in Windows 10 for all user accounts, follow these steps:
Open Group Policy Editor.
Navigate to User Configuration > Administrative Templates.
Select "Start Menu and Taskbar".
In the right pane, double click on "Remove the Meet Now icon" policy.
Select "Disabled".
Click on OK and close the editor.
With the above configuration, you're all set. The icon will disappear from the taskbar for all user accounts.
It's also worth noting that the tech giant is slowly pushing the Meet Now feature to other products, such as Outlook and Microsoft Edge. With this forced update, Microsoft could help Skype sustain and protect its userbases from rivals like Zoom and Microsoft's own Teams.
As we mentioned at the outset, Meet Now is integrated into Skype and it allows users to initiate meetings without subscribing to Microsoft or Skype account.
The process is also fairly simple as you only need to click on the icon and generate a unique link that you'll need to share with participants.
If you want to re-enable the feature, you can go back to the same taskbar settings and toggle the option to 'on'.