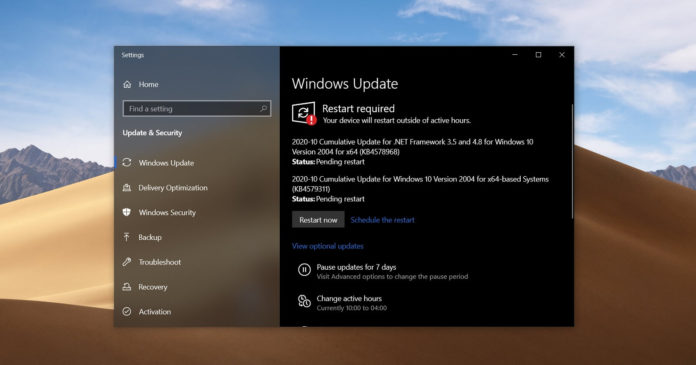 Earlier this year, Microsoft released Windows 10 May 2020 Update with Windows Sandbox improvements, Cloud Recovery, and more. Last month, Microsoft shipped another feature update called "October 2020 Update", but there's at least one underlying issue that remains unpatched and it's now hitting more users.
In a new support document, Microsoft confirmed that a bug in Windows 10 version 2004 was behind black screen issue. The black screen issue was primarily observed on external monitors and it also affected Office productivity suite, but some users reported similar issues on their primary monitor.
A new cumulative update, which is currently available via Windows Update, finally fixes the black screen woes. The problem was first reported in May and it was causing the screen to go black primarily when drawing using an Office app.
The fix also applies to Windows 10 October 2020 Update because both the operating systems share the same core components.
Browser data loss bug
Windows 10 version 2004 and newer are also plagued with notable issues for Chromium browser and Microsoft's own apps. Following the May 2020 Update, users have been reporting that Chrome and Edge browsers have stopped sycning their data, and their browsing data is reset automatically upon a reboot.
In August, Microsoft sources told us that the company is aware of the issues and actively investigating the root cause, but the problem remains unresolved as of November 2020.
Over the past few weeks, more users started reporting that Windows 10 is deleting cookies off of their devices. When this happens, Chrome or other apps will ask users to sign in upon every since reboot.
Microsoft and Google both are aware of the problem, and the fix is expected to arrive later this year.
"We (Microsoft) are working on a fix for this issue, but due to the nature of WindowsUpdates, it will, unfortunately, be a while longer until we can release it via a monthly servicing update," Microsoft said.
For now, there's no proper fix, but you can try to mitigate the problem by deleting tasks from Windows 10's Task Scheduler.
As we reported earlier this week, Microsoft is also aware of issues with Office updates in Windows 10 and broken sleep mode.