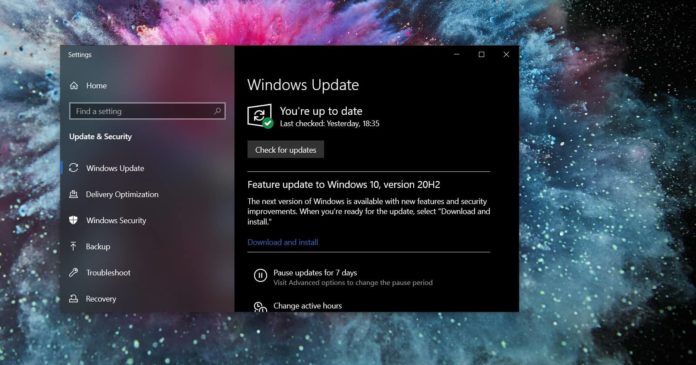 Microsoft has finally released the Windows 10 October 2020 Update, also known as version 20H2. The company says you can download the October 2020 Update now by becoming a 'seeker' and it will be pushed to your PC as an automatic update in future.
Microsoft also clarified that Windows 10 version 20H2 is not being forced and users won't receive it right away if they don't actively check for updates. The update is rolling out to those who check for updates on devices running Windows 10 versions 1903, 1909, and 2004.
Windows 10 October 2020 Update has been in testing for almost six months and it's nothing more than an enablement package or a serviced version of May 2020 Update (version 2004).
As it always does, Microsoft has now published a list of known issues that you should check out before upgrading to Windows 10 version 20H2.
Unsurprisingly, Windows 10 version 20H2 comes with all issues that are currently plaguing Windows 10 version 2004.
Known issues in Windows 10 October 2020 Update
As of October 20, Microsoft is aware of multiple minor known issues in Windows 10 October 2020 Update, including one change that leads to errors when applying drivers from unverified publishers.
1. Driver errors
With recent cumulative and feature update, Microsoft appears to have made a significant change to the way in which Windows verifies drivers published by OEMs, manufacturers and vendors.
As part of the change, Windows 10 now uses a new driver verification model that will prevent users from applying low-quality drivers or unverified drivers. When this happens, Microsoft says it will show one error message stating that it can't verify the publisher.
If you come across such issues when applying driver updates manually, Microsoft recommends reaching out to the publisher of the driver.
Technically, this is a feature and Microsoft won't revert it for security reasons.
2. Conexant audio drivers
Microsoft is currently aware of issues with Conexant audio drivers in Windows 10 version 20H2.
The bug was first discovered in the May 2020 Update and it remains unresolved for some unknown reasons. If you have these audio drivers installed, Microsoft says it will apply a compatibility hold on your device and prevent it from receiving feature updates.
Microsoft noted that they're working with Synaptics and they'll share more details soon.
3. Conexant ISST audio drivers
Microsoft is also aware of issues with Conexant ISST audio drivers where users might have problems operating their computer's built-in audio system.
As a result, Microsoft has placed another upgrade block and affected users may need to wait until an update is issued by the company.
A lot of these issues are pretty minor and you could run into problems only if you've got an older Conexant audio device.
If you do come across Blue Screen of Death and other nasty issues after applying Windows 10's October feature update, let us know in the comments below.