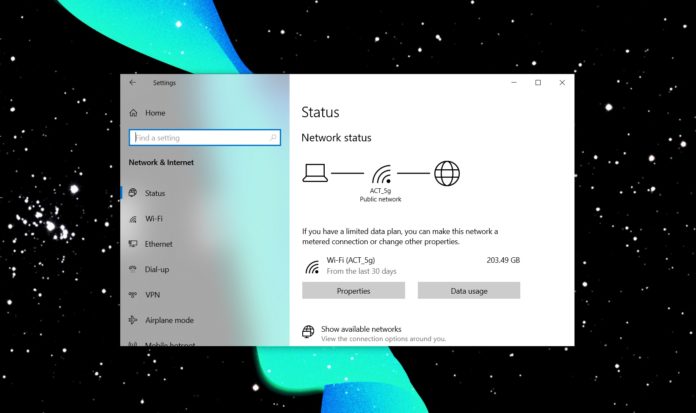 Windows 10 May 2020 Update has received fixes for major bugs in Microsoft's monthly patches for July, but it looks like the update has yet another unpatched problem and it has been finally acknowledged by Microsoft.
Microsoft has acknowledged that Windows 10 version 2004 is displaying false internet connection warnings for some PCs.
Users have been reporting that a dreaded yellow triangle would appear on the system tray annoyingly reporting that they have "No Internet Access". The error will appear when your device is connected to the router correctly but it would seem like Windows 10 cannot connect to the internet.
"I've rebooted my laptop, reset the router and reinstalled the network wireless adaptor but still the same message," one user noted, and others have also confirmed it.
While you'll be able to browse the web in your browser, it appears that apps such as Spotify, Cortana, Microsoft Store and even Feedback Hub rely on the Windows 10's internet status to reach the servers. In other words, Spotify and other apps may not work when you have a false internet connection warning.
There are reports dating back to when the Windows 10 May 2020 Update was available only to the testers in the Release Preview Ring, but those who have upgraded to May 2020 Update recently, have also found the warnings itself in their own testing.
We were able to reproduce the problem in one of our devices with Intel Wi-Fi 6 AX200 module and there appears to be a workaround.
How to fix "No internet connection" bug in Windows 10 May 2020 Update
To fix the no internet connection warning after upgrading to Windows 10 version 2004, follow these steps:
Open Windows Search.
Look for 'Registry Editor'.

Navigate to "HKEY_LOCAL_MACHINE\SYSTEM\CurrentControlSet\Services\NlaSvc\Parameters\Internet"
Modify "EnableActiveProbing" and change the value from '0' to '1'.

Click on 'OK'.
Close Registry Editor.
Restart your computer.
Microsoft acknowledges "No Internet Connection" warning
In a forum thread, Microsoft staff has now confirmed that there is a problem with the  Network Connectivity Status Indicator (NCSI) that sits in the taskbar or the system tray.
If you're affected or when you get affected, you would see that the internet or Wi-Fi icon indicate that there is no internet connection available.
"Customers are reporting "no internet" access in the Network Connectivity Status Indicator (NCSI) on Windows 10 2004 devices on devices that in fact can ping internet resources or browse web sites with internet browsers," Microsoft's contract worker noted in a forum thread.
Microsoft is actively investigating the problem, and it will be resolved in a future cumulative update.