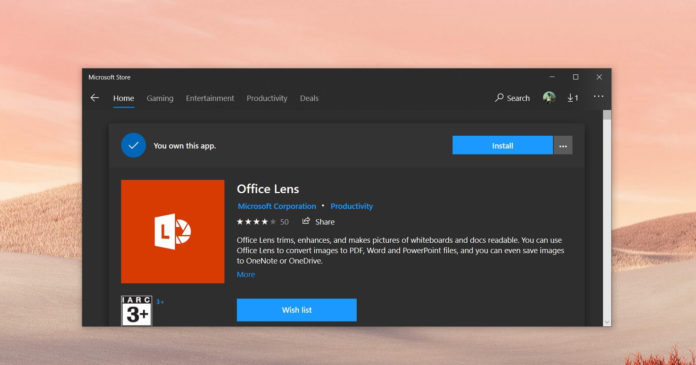 Office Lens allows you to use your mobile device's camera to snap a photo of your receipts, cards, printed documents to digitalize and store them in the cloud or local storage.
Technically, this app is designed for mobile devices, but you can also use the Windows app to import photos that were taken previously and capture the text. When you import the photo into Office Lens, it will automatically adjust it and help you read the text, and then you can upload the photo to Microsoft's cloud services.
By default, Office Lens app saves your photos to OneNote in your main notebook, but you can also save the photos as a PDF or upload them to Word, PowerPoint and OneDrive using Microsoft cloud.
OneNote is the best Office app to store and sync Office Lens data across your devices, but in an unexpected move, Microsoft has confirmed that it will completely retire cloud services support in the Office Lens app for Windows later this year.

After December 31, Microsoft says you can no longer save your pictures to its cloud services. The company is also killing Office Lens PDF support for Windows 10.
Microsoft is asking users to download their recent captures from the 'Recent uploads' tab before December 31. You can still access your previously saved captures from your OneDrive account in a mobile app or web browser.
Microsoft also said it will remove the Office Lens app from the Microsoft Store on January 1, 2021. If you want to scan or upload your documents using Office Lens, Microsoft recommends using Android and iOS devices.
"In addition, Office Lens for Windows 10 will no longer be available for download from the Microsoft Store," the company said in a support document.
As we mentioned at outset, Office Lens is designed for mobile devices, but it can also import photos and it's one of the best ways to manage captured whiteboard notes and contact information on Windows 10.