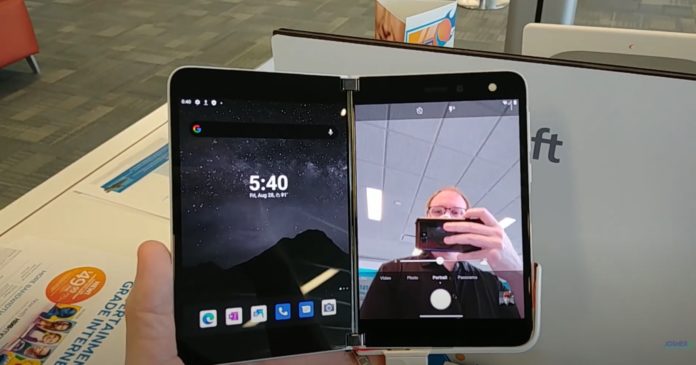 In the last couple of weeks, the Surface Duo has been criticized by some users for its technical specs, especially the camera specs of the Surface Duo, even though nobody can tell if this dual-screen phone takes good pictures or not.
Surface Duo comes with an 11-megapixel adaptive camera 11MP, f/2.0, 1.0 µm, and 84.0° diagonal. The FOV has been optimized with AI for front and rear. The camera supports auto mode with low-light, HDR and dynamic range scene detection.
In addition, Duo also comes with support for portrait mode with adjustable depth control, panorama mode, and burst mode.
While Microsoft's first-ever Android device is expected to begin shipping on September 10, Surface Duo is already available for demo at the AT&T and Best Buy stores in the United States.
A user today shared photos that they say were taken from the Surface Duo at an offline store. It should be noted that internet uploads compress photos so we might not be looking at the actual camera quality, but the photos give us a very good idea of what to expect from the Surface Duo's camera.
As you can see in the photos embedded above, Surface Duo camera is not at all terrible, especially if you consider that this is coming from a unique form factor that is incredibly thin.
While the Surface Duo's 11-megapixel camera won't stand up against flagship smartphones these days, the camera performance is not that important for such a device. The camera is not Microsoft's concern in the first place because the company doesn't see the Surface Duo as a smartphone.
Microsoft describes the Surface Duo as a dual-screen device focused on mobile productivity, so it's not a typical smartphone that should have a great camera to succeed in the market.