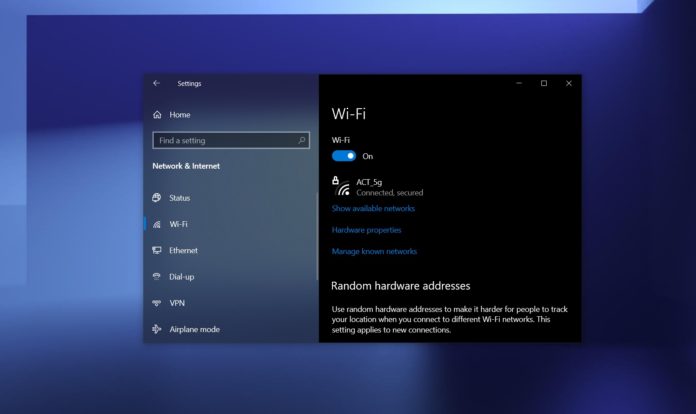 As we reported last month, a bug in Windows 10 May 2020 Update (version 2004) could break your Wi-Fi connection and disable apps such as Spotify or Microsoft Store. Despite the recent cumulative and optional updates, some users still see a yellow triangle in the taskbar or the "no internet access" message.
Last month, Microsoft said that it has been investigating the problem but has not released any solution to the consumers thus far.
The affected users noted that Windows 10 May 2020 Update makes the Wi-Fi icon disappear from the taskbar when the internet itself is active and the router is also accessible.
While there's "no internet" connection message in the taskbar icon, users can still continue to browse the web in Google Chrome, Edge or Firefox. The apps that rely on the Network Connectivity Status Indicator (NCSI) to check internet connection are unlikely to work.
For example, the faulty network connections bug might cause an offline error in Spotify, Microsoft Store, Microsoft 365 and certain other apps will also remind you to make sure you're connected to the internet.
The good news is that Microsoft has finally started distributing the fix to the testers in the Dev Channel of the Windows Insider program. With Windows 10 Build 20185, Microsoft says it has addressed the "no internet" connection problem:
Fixed an issue that could result in the network icon in the Taskbar saying there was no internet although there was an active connection.
Given Microsoft's track record, Windows 10 version 2004 will also get these fixes in a cumulative or optional update by the end of September.
The 'no internet' connection problem wouldn't be such an annoyance if certain apps had worked as intended. If you're affected and you cannot wait for Microsoft's hotfix, there's a workaround that appears to work for a number of users:
Open Registry Editor and navigate to the following path:
In Registry, Navigate to "HKEY_LOCAL_MACHINE\SYSTEM\CurrentControlSet\Services\NlaSvc\Parameters\Internet"
Highlight 'EnableActiveProbing'.

Change the value data from 0 to 1.
Close Registry editor.
Restart Windows.
It's also worth noting that we've seen reports of other network-related issues caused by the Windows 10 May 2020 Update where the icon vanishes or the device fails to connect to the Wi-Fi.
If you've other network issues after the May 2020 Update, our advice is to file feedback report in the Feedback Hub, try updated Intel Wi-Fi drivers, or roll back to a more stable version of Windows.