In addition to feature and cumulative updates, Windows Update on Windows 10 is also responsible for installing drivers for components like display, Bluetooth, audio, and connected devices.
Windows 10 offers smooth upgrade experience for most of the users, but there is that little disruption where you can't use Windows Update when the process is plagued with issues.
After the release of Windows 10 May 2020 Update on May 27, some OEMs such as Asus have pushed out an updated display driver to better support the update. Unfortunately, some users have come across a display driver update that stops midway with vague error messages.
According to several threads posted on Microsoft's answer forum, Windows Update would keep pushing an older driver even when the driver has already been successfully installed and the process gets stuck in an installation loop.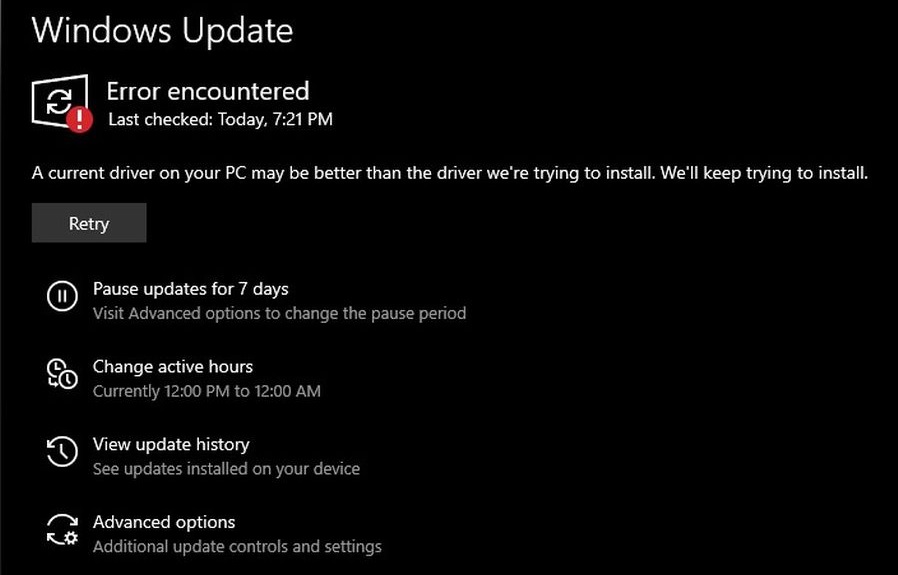 Windows 10 driver installation loop can be frustrating to deal with as Windows Update will nag you with a warning message every time you check for updates.
In addition, an error message stating that "current driver on your PC may be better than the driver we're trying to install. We'll keep trying to install" is displayed.
But what causes it? Typically, the fault can be traced to one of the two things:
Windows Update cache.
A bug that prevents Windows Update from checking the installed driver version.
Basically, something in the Windows Update process goes awry and it will result in an infinite loop of installation failures.
In this article, we've highlighted the things to keep in mind when you come across an update that gets in an installation loop midway and paralyses your Windows Update page.
How to prevent a specific driver update in Windows 10
To block a particular driver update in Windows 10, follow these steps:
Download "Show or hide updates" troubleshooter package from Microsoft's website.
Click 'Next' to start checking for updates.
Click 'Hide updates'.
If that driver update is available, check the box next to the driver name. If you don't see the driver listed, reboot the system and check for updates in the Settings. Once the update shows up in the Settings, open "Show or hide updates" troubleshooter again and select the driver that you do not want to install.
Click 'Next' to temporarily block the update
Close the tool and open Settings > Update & Security.
In the Settings app, check for updates again and the driver package will not show up again.
It's worth noting that there is always chatter about driver update loop issue, but with Windows 10 version 2004 update release, the noise is definitely louder and it's likely that OEMs have pushed out drivers in order to address possible compatibility issues.
Windows 10 May 2020 Update is off to a robust start and is gradually rolling out to more devices. According to a survey sample based on almost 150,000 Windows 10 machines, version 2004 is being adopted by users much faster than Microsoft's last year updates.