We have seen glimpses of two dual-screen devices from Microsoft in the past few months, and the company is planning to push things even forward with its improved magnetic-based hinge system for future dual-screen hardware.
A new filing from the US Patent and Trademark Office gives us some idea about what such a device from Microsoft might look like. A patent tiled "Hinged device" was published by USPTO on May 14, 2020, and it was spotted by us earlier today.
In the filing, Microsoft has revealed how it could use the magnetic elongate magnetic hinge assembly to bring two display together on dual-screen hardware so that they're synced, rotatable, and modular.
The Redmond company notes that the patented device includes two portions that can be rotatably secured by a magnetic hinge assembly. The hinge assembly includes two portions with magnets, and Microsoft says it will use ferromagnetic material, such as iron, that is attracted to the magnets of the assembly.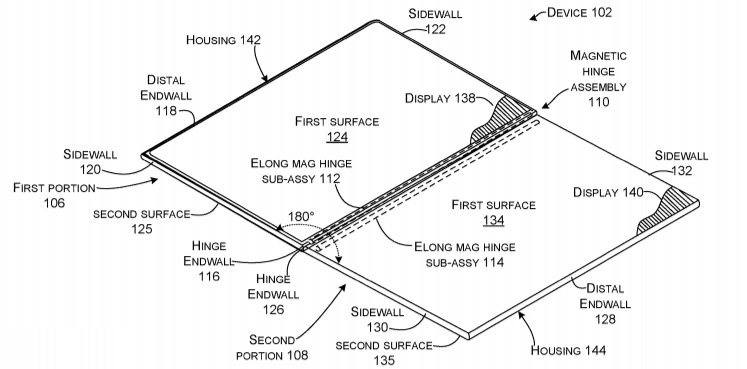 Interestingly, Microsoft added that the user can pull the first and second portions apart to use them separately. Detachability is currently offered on Surface Book lineup, but you cannot use the second portion (keyboard) as a screen.
"Further, the user can separate the device portions and use them individually. As such, from one perspective, the present magnetic hinge assembly implementations can be viewed as virtual hinges," Microsoft noted.
Microsoft believes that this configuration could also prevent damage to the magnetic hinge sub-assemblies. For example, the reduced gaps between the two portions and the material of the surroundings will prevent dust and stones from entering the first and second portions where they could interfere with the hinge and break the device.
According to the patent, magnetic hinge sub-assemblies will also offer aesthetically pleasing appearance.
In addition, the magnetic hinge assembly will still allow hinge ends to rotate against one another to enable rotation of up 180 degrees.
It's worth noting that patents may not end up turning into an actual product, but it gives us some idea of what Microsoft is planning for next-gen foldable devices.
We know that Microsoft has been thinking about dual-screen and modular devices for ten years at least, and it's likely that we'll more foldable or dual-screen hardware from the Redmond tech giant next year.