Microsoft is now rolling out Windows 10 May 2020 Update to more configurations and users, and the company has also begun the process of pushing the feature update to PCs which are still running the October 2018 Update (version 1809).
The software maker has announced that it has begun forcing those still on October 2018 Update to upgrade to Windows 10 version 2004, as the end of service date for the October 2018 Update is looming.
Microsoft says it will use machine learning and its Windows Update algorithm to force the upgrade. If you're still using October 2018 Update (version 1809), there's nothing you can do and you'll be automatically upgraded to version 2004.
If don't want to try May 2020 Update (version 2004), which is plagued with several issuers, you should manually upgrade your PC to version 1903 or 1909 instead and you won't be force upgraded to version 2004.
Windows 10 version 1903/1909 was released last year and therefore it is a little more stable.
May 2020 Update is rolling out to more users
In addition, Microsoft said that more people are getting the May 2020 Update when they check for upgrade manually.
Microsoft isn't being as aggressive as it used to be about pushing Windows Updates to supported versions of Windows. In other words, if you don't check for updates, it won't be downloaded or installed.
The automatic update will be applied to your PC only when the version of Windows 10 that you're using on your PC is nearing the end of support.
May 2020 Update might not be offered to everyone because of known issues. For example, if you are using old Nvidia drivers and Realtek Bluetooth adopters, the update will be blocked from showing up in Windows Update page even when you manually try to trigger the process.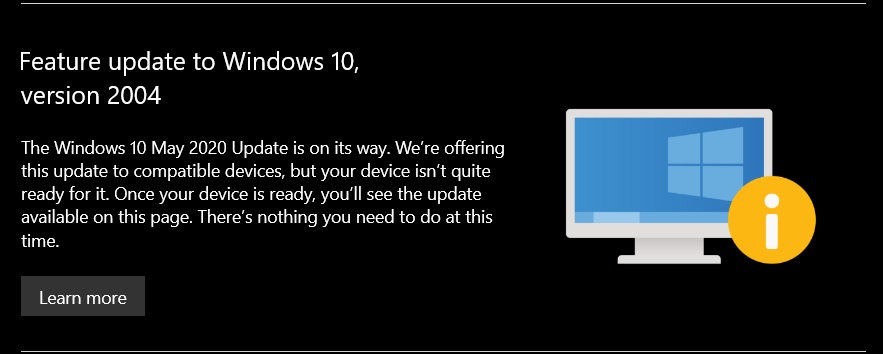 While Microsoft says more people are getting the option to install Windows 10 version 2004 through Windows Update, it'll still take time to reach all configurations.
Of course, if you really want the update and you're confident that your apps or drivers are compatible, you could still get it with Media Creation Tool or by manually downloading the ISO images of Windows 10 May 2020 Update.