Windows 10's built-in update mechanism also install new drivers for components like display, network, Bluetooth, and more. When a particular component such as Bluetooth isn't compatible with a new version of the OS, Windows Update would try to install compatible driver package from Microsoft's driver store.
While Windows Update is the quickest and easiest way to update drivers with OEM customizations, some users are reporting that Windows Update is repeatedly trying to install an older version of Intel Corporation Display drivers.
According to reports on Reddit and Feedback Hub, Windows Update would keep trying to install the same graphics driver even when the latest drivers are present and the update gets stuck in an installation loop.
"Windows update keeps trying to install a previous version of Intel UHD Graphics chipset despite the fact that latest drivers are present. The issue appeared after installing May 2020 (v2004) update," one user noted in the Feedback Hub.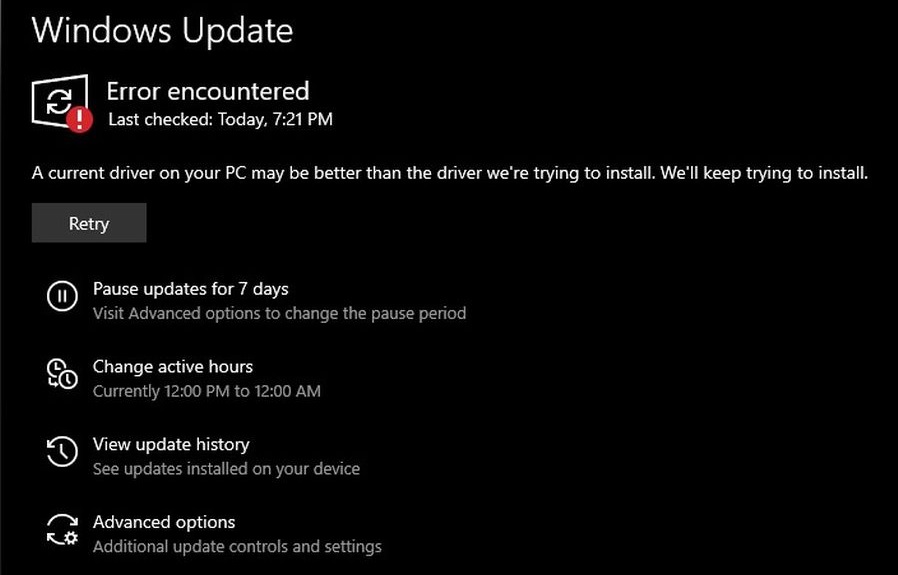 "Windows Update trying to install Intel Corporation – Display – 26.20.100.7325 after being installed successfully. It ends up giving an update error saying a better driver is installed, but it's trying to install the exact same one," another user wrote.
On Twitter, Microsoft's Windows Dev handle noted that the issue might be caused by the update cache and you should be able to fix it by following these steps:
Head to Settings > Update & Security > Troubleshoot. In the Troubleshoot page, select Windows Update.
Select 'Run the troubleshooter'.
Microsoft is also recommending users to clear the Windows Update cache by following these steps:
Open 'Services' app (services.msc).
Double click on Windows Update entry and stop the process.
Open File Explorer and navigate to C:\Windows\SoftwareDistribution\Download
Select and remove all files or folders.
Open Services app again and restart the Windows Update process.
Check for updates and the driver will disappear.
If the problem persists, you can also uninstall the Intel GPU driver in Device Manager and reboot the system.
After reboot, your PC will only use the basic/generic driver and Windows Update should be able to install the updated driver, which was previously blocked due a conflict with the existing driver.
Last year, drivers updates from Intel, Realtek and PC makers were pushed out via Windows Update, which caused Windows 10 users endless problems. After driver update problems in Windows 10, Microsoft had started blocking users from upgrading due to compatibility problems.
Earlier this month, Microsoft also confirmed that new measures to evaluate drivers quality will be implemented in June, which should reduce crashes and other issues caused by the driver updates.