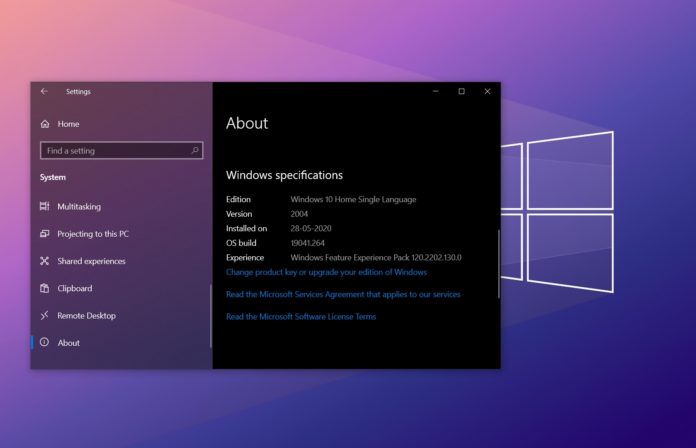 On May 27, 2020, Microsoft started rolling out Windows 10 May 2020 Update to the mainstream users. Anyone who manually checks for updates can now upgrade their PC to Windows 10 version 2004.
Windows 10's May 2020 Update (version 2004) has been in testing with Windows Insiders (a group of beta testers) for about 15 months. The first build was released in February 2019 and development process for the update ended back in December 2019.
Since December 2019, Microsoft has released several cumulative updates for Windows 10 version 2004 with numerous fixes, improvements, and tweaks, but no new features were added in the last five months.
One year of beta testing and five months of additional servicing should mean fewer bugs and improved experience for those who upgrade today, but Microsoft says that there are still a bunch of known issues in this feature update.
Known issues in Windows 10 May 2020 Update (version 2004)
As of May 27, 2020, Microsoft is aware of at least ten known issues in Windows 10 version 2004. The company acknowledged the known issues with the feature update in multiple support documentations.
Bluetooth connectivity issue
Windows 10 May 2020 Update could prevent some users from connecting or pairing more than two Bluetooth devices at a time. This bug could also prevent you from using Bluetooth mouse, keyboard and headphones or other Bluetooth devices at the same time.
Microsoft is aware of the Bluetooth connectivity issues in some installations of Windows 10 with unknown versions of Realtek Bluetooth radios.
May 2020 Update has already been blocked on devices with problematic Bluetooth drivers and Microsoft warns that users should not force the update with the Media Creation Tool until this issue has been marked resolved.
Conexant ISST audio drivers
Microsoft also acknowledged a new known issue with Conexant ISST audio drivers.
According to the tech giant, incompatibility issues with certain versions Synaptics' Conexant ISST driver could prevent Windows 10 version 2004 update on affected machines.
The bug appears to be hitting audio drivers named "Conexant ISST Audio" and "Conexant HDAudio".
Conexant audio drivers
Another bug with Conexant audio drivers might cause a Blue Screen of Death error after installing Windows 10 feature update.
ImeMode
Microsoft is aware of a bug where apps might have issues if they utilize the ImeMode property to control Input Method Editor.
Variable refresh rate
Windows 10 May 2020 Update could create trouble for you if have a monitor with Variable refresh rate (VRR) plugged into an Intel integrated graphics processing unit display adapter.
Microsoft says that Windows 10 will not enable the VRR for most games if you have VRR plugged into iGPU adapter.
Thunderbolt dock and BSOD
Microsoft warns that devices with a Thunderbolt dock may receive a Blue Screen of Death error when plugging in or unplugging the dock.
Unexpected restarts and shutdown
Windows 10 version 2004 could cause a random shutdown and restart on devices with a network adapter that supports "Always On, Always Connected" capability.
Surface Pro 7 and Surface Laptop 3 are also affected and Microsoft says it has already placed compatibility hold on these devices.
Mouse input
Apps and games using "GameInput Redistributable" might lose mouse input/support after upgrading to Windows 10 version 2004.
In other words, this nasty bug might prevent you from using your mouse to interact with certain apps.
Broken apps and drivers
Windows 10 May 2020 Update could also break apps and drivers with affected versions of aksfridge.sys or aksdf.sys. When Windows 10 detects aksfridge.sys or aksdf.sys, apps or drivers might fail to start if you install the feature update.
BSOD on older Nvidia drivers
Microsoft has also warned about system failures and Blue Screen of Deaths on PCs with Nvidia GPU driver version 358.00 after upgrading to version 2004.
A lot of these issues are pretty nasty. For example, you might have Bluetooth connectivity issues if you've got more than one device connected. Likewise, you could run into a Blue Screen of Death if you use affected audio drivers, older Nvidia GPU driver or when you unplug Thunderbolt dock.
Microsoft says the update won't be offered on affected devices and you should not force it with Media Creation Tool.