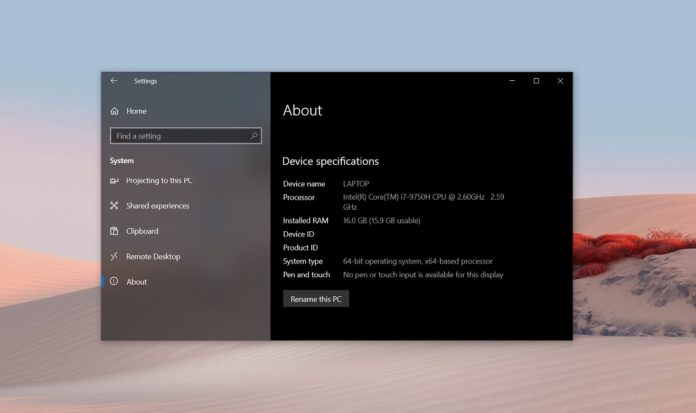 On May 27, 2020, Microsoft started rolling out Windows 10 May 2020 Update, just before the end of the month. May 2020 Update for Windows 10 includes a new Cortana app, Cloud Reset, Windows Subsystem for Linux 2, improvements to Windows Search, and it also makes Reserved Storage optional, among other features.
The update is being rolled out in phases and those who want to update immediately can go to Settings > Update & Security > Windows Update and choose "Check for updates". After checking for updates, you've to select "Download and install now."
Microsoft says that anyone can download and install the update if they have a compatible computer. If you don't know whether you have got compatible hardware, the company has also published Windows 10 May 2020 Update system requirements.
Windows 10 May 2020 Update (version 2004) system requirements
RAM: 2GB of RAM for 64-bit and 1GB of RAM for 32-bit computers.
Storage: 20GB of free space on 64-bit and 16GB of free space on 32-bit systems.
Screen resolution: 800×600
Graphics: Microsoft DirectX 9 or later with WDDM 1.0
Intel CPU: All processors up 10th-gen, Intel Xeon E-22xx, Atom, Celeron, and Pentium.
AMD CPU: All processors up to seventh-gen.
Qualcomm CPU: Snapdragon 850 and 8cx.
Prepare your device before installing the May 2020 Update
To avoid issues during the installation process of Windows 10's May 2020 Update, you should unplug your external drives and memory cards. Users have previously reported that the external storage hardware could block systems from installing the update.
Likewise, Windows Update can cause system failures or incorrectly assign your drive if you don't unplug your external storage devices.
Windows 10 Update is also going to require a chunk of space to finish the installation process. Windows Update does not check to see if sufficient free space exists before starting the installation process and if you do not have enough free space, it'll lead to update failure and uninformative error codes.
Get the drivers
Intel and Nvidia have already started rolling out their new GPU drivers with support for Windows 10 May 2020 Update.
For the best experience, make sure you download the GPU drivers from the manufacturer's website.