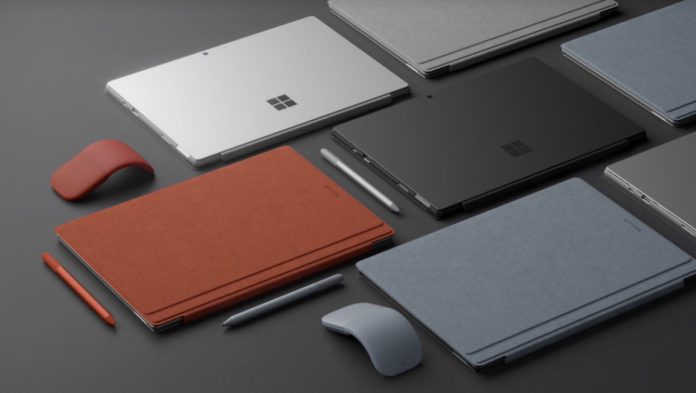 In 2019, Microsoft launched Surface Pro X with an innovative solution to recharge the stylus 'Surface Slim Pen'. The pen is designed for fitting into the notch on the detachable Surface Pro X keyboard and when the pen is stored, it's also recharging with a small green light.
Microsoft also appears to be working on a similar implementation for its next-gen Surface Pro lineup. According to a patent filing, Surface Pro 8 or the next-gen Surface Pro X could come with wireless charging coil located on its edges to recharge your Surface Pen and even other products.
The patent was applied by Microsoft in October 2019 and published by the WIPO on May 7, 2020, and noticed by us today.
As per the filing, the next-gen Surface Pro may have a 'charging source side' and it will be aligned with an aperture in the metal casing of the computing. The aperture is aligned with a shield and wireless charging coil is wrapped around the shield for some configurations.

Microsoft says its wireless charging coil can also be located between the shield and the metal casing of the Surface device. This provides wireless charging to the target electronic device (Surface Pen). In theory, the power from the source coil would be transmitted to the receiver coil and it will charge the rechargeable battery of the Surface Pen.
"A first providing operation provides a first aperture in a metal casing of an electronic device. The first aperture includes at least two sub-apertures connected by at least one channel. In some implementations, each of the two sub-apertures provides access to a port of the electronic device, such as USB ports," Microsoft noted.
The same implementation can be used for near field communication (NFC). The wireless charging frequency is actually the same as the NFC frequency and the configuration including the antenna assembly can be used for both wirelessly charging the Surface Pen and NFC capability of the device.
Either way, this isn't something new for Microsoft. The company has previously implemented storage space in the Type Cover to recharge and hide Surface Pen. The patent dives a bit deeper into the future plans of Microsoft and how the edges of the device can be used for recharging a pen.
While the diagrams do show a device that looks a lot like a new Surface Pro, it is important to note that not all patents end up being produced.