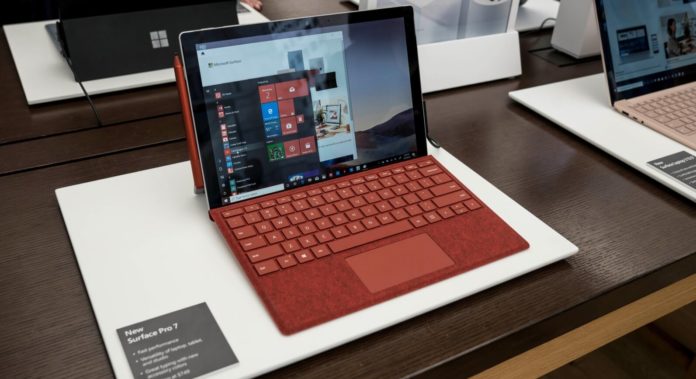 Last year, Microsoft launched Surface Pro 7, which is practically identical to its predecessor, the Surface Pro 6, but it comes with the long-overdue USB-C port. The 10th Gen Intel chips in Surface Pro 7 also provide a nice performance boost and the product has a four-star rating on Amazon and other outlets.
Unfortunately, some Surface Pro 7 owners are reporting their flagship product keeps shutting down or turning itself off randomly. In Microsoft forums, a growing number of users reported that their device is suffering from random shutdowns.
The problem is being widely reported and a Microsoft employee has reached out to consumers with assurance the issue is being monitored.
"For me, if I'm using the device and then stop doing anything for like 30 seconds to 1 minute, then it just shuts off. Black screen. I can hit the power button and it boots up like everything is fine, but I've lost all the windows I had open and any work I had done. I have tried reboot the operating system, made sure I had updates done, I've run the diagnostic toolkit (no issues). Nothing has fixed it thus far," a user noted.
In a post, Microsoft employee stated that Surface Pro 7 random shutdowns are being "actively" investigated.
"Thank you for reporting this issue, we are actively investigating. Please continue monitoring this thread for additional information and continue to check for Windows Updates," the representative said.
Another representative shared steps for a potential workaround that tweaks default sleep times. However, users noted that changing default sleep times does not resolve the problem with their device.
While this could be a hardware issue, this is more likely to be associated with a particular firmware or display technology. One theory is that the issue is tied to Intel's power-saving tech called 'Panel Self Refresh' and turning off the feature could help you resolve the problem.
To fix Surface Pro 7 random shutdowns, try these steps:
Open Microsoft Store.
Search for 'Intel Graphics Command Center'
Install the app from the Microsoft Store.
In Command Center, navigate to Settings > System > Power.
Look for 'Panel Self Refresh' and turn it off for both "On Battery" and "Plugged In".
Reboot your device.
It does appear to be a potential fix for many customers, but some people are still experiencing problems with their device as of this week.