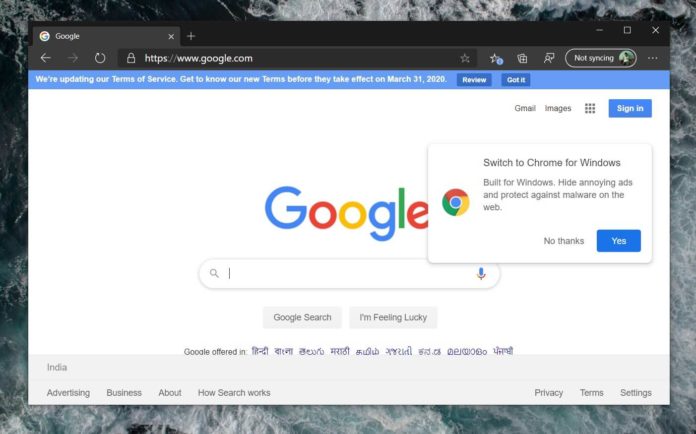 Microsoft's new Edge browser, which is based on the open-source Chromium, largely fostered by Google, will finally let you replace Bing in the New Tab Page (NTP). The new Edge development kicked off about a year ago and it comes with all Chrome features, including access to Google's web store.
While Edge is based on Google's Chromium platform, the company has added its own tweaks, features and Bing as the default search engine for searches from the address bar and search bar on the new tab page.
Bing isn't for everyone and some people prefer Google or DuckDuckGo. In Microsoft Edge, you can currently select Google, DuckDuckGo, Yahoo, Ask and others as a default search engine in the address bar only.
The browser includes an option to use a different search engine in the address bar, but you cannot replace the search engine that powers Bing bar on the new tab page.
In a new Edge Canary update, Microsoft says it has added the option to use Google and other search engines on the new tab page's search bar, which currently uses Bing. In addition to third-party search engines support, Microsoft will also allow users to hide the Bing search bar on the new tab page.
Edge will include another new option that will let you set a custom URL for a new tab page instead of showing the classic tab page.
In Edge Canary, you can force the search bar to use the address bar's search engine by tweaking the settings in Edge://settings/search.