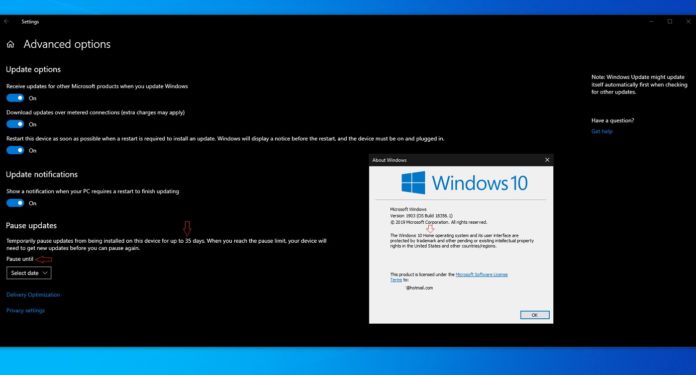 Since its release in late February, the Windows 10 version 1909 and 1903 optional monthly update has led to a litany of bugs. Windows 10 users are being plagued by more problems following KB4535996 (optional update) that was supposed to fix known issues with Windows Search and other features.
We recently reported that Windows 10 KB4535996 causes freezes and installation issues on some configurations. It looks like the update is also being blamed for other bugs—SignTool.exe (Sign Tool) crashes, boot failures, slow boot, FPS drop and audio stutters.
A small number of users also encountered with Windows 10's famous temporary user profile bug, which can be fixed by uninstalling the patch.
First off, KB4535996 is an optional update for Windows 10 version 1909 and 1903, which means it won't install on your device unless you manually click on 'Download and install' option.
SignTool.exe (Sign Tool) error code 1073741502
Many system administrators are reporting that Sign Tool (SignTool.exe), which is a command-line tool to digitally verify or sign files, crashes after installing this particular update.
On a PC running Windows 10 KB4535996, Microsoft's Sign Tool (SignTool.exe) may crash with error message 1073741502. This has been confirmed by several people in Feedback Hub posts and our comments section.
"After installation of KB4535996, all of my projects in Visual Studio 2019 that use Sign Tool to apply an Authenticode signature to a DLL, EXE, or MSI failed. When executing Sign Tool from the command line or PowerShell would display nothing when executed without providing parameters. Removal of the update restored functionality to Sign Tool," a user wrote.
Game FPS drops and audio stutters
In a Reddit thread, users have reported that the cumulative update could also cause FPS drops and audio stutters in certain games.
"It's not extreme, but I say my framerate in games has gone down 10 frames or so and stuttering occurs once in a while. After uninstalling the cumulative update, everything was fine. Weird," a user noted.
Boot issue
In most cases, the update works well, but sometimes it can progressively increase boot times or boot failures for Windows 10 PCs.
In Microsoft's answer forum, our comments, Feedback Hub and Reddit, some users report that their Windows 10 computers boot slowly or fail to boot after the update is installed.
"Froze on me! Cut all keyboards alpha numeric functions out. With a great amount of clicking I was able to bring up my restore point from just before the cumulative update," a user said.
"Mine restarts before start applying the update, and then, it's stuck on recovery… the only way to try again is to restart in safe mode, to uninstall the update, and try again," another user wrote.
For some users, the patch leads to a reboot loop which stops only after Windows rolls back the patch
"After trying to install Windows 10 KB4535996 during reboot the update gets to 30% of preparing update and then reboots and causes my computer to try to automatic repair. The only fix seems to be to load Windows safe mode and then windows rolls back the partially installed Windows 10 KB4535996 and then another reboot makes my computer boot normally again," a user wrote in Feedback Hub.
If you're affected, you can uninstall the patch from the Settings app and Microsoft won't offer it to you again unless you manually recheck for updates.
Following the issues with recent Windows updates, Microsoft faced fresh calls to restructure its testing process and slow the pace at which updates are applied to Windows 10.
Microsoft has yet to acknowledge reports of Windows update failures and offer a fix to affected users.