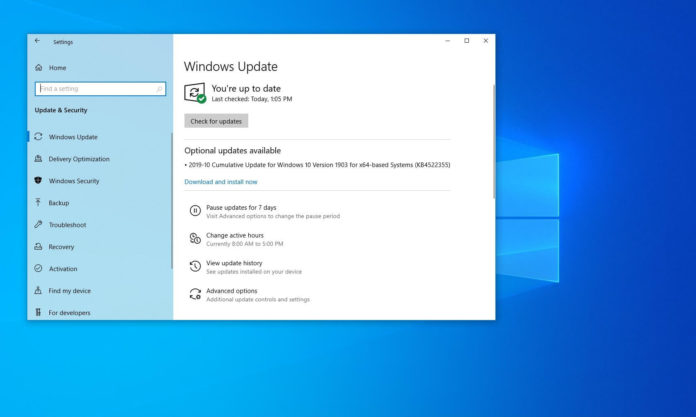 Windows 10 users are reporting that an optional update released in the last week of February is causing problems. Windows 10 KB4535996 was released on February 27 to fix Windows Search and printing glitches, but it looks like some users have run into serious bugs after applying the optional patch.
KB4535996 is an optional update and it represents a preview of the following month's Patch Tuesday release. Optional updates are not installed automatically and they're visible only if you open Windows Update in Settings.
According to multiple reports in our comment section, Microsoft's answers forum, and Feedback Hub, some people have been experiencing problems during and after the installation of Windows 10 KB4535996.
First and foremost, some people said that KB4535996 fails to install with generic error messages such as 0x800f0922 and 0x80070003.
"Windows Update lists this as an Optional Update where I can click Download and install. It downloads 0 to 100%, then installing takes some time to reach 100%, then it requests Restart, after which it starts updating on a blue screen: it counts up to 6% and then reboots. It indicates that it couldn't complete the updates; undoing changes and troubleshooter does not find any cause," a user noted in Feedback Hub.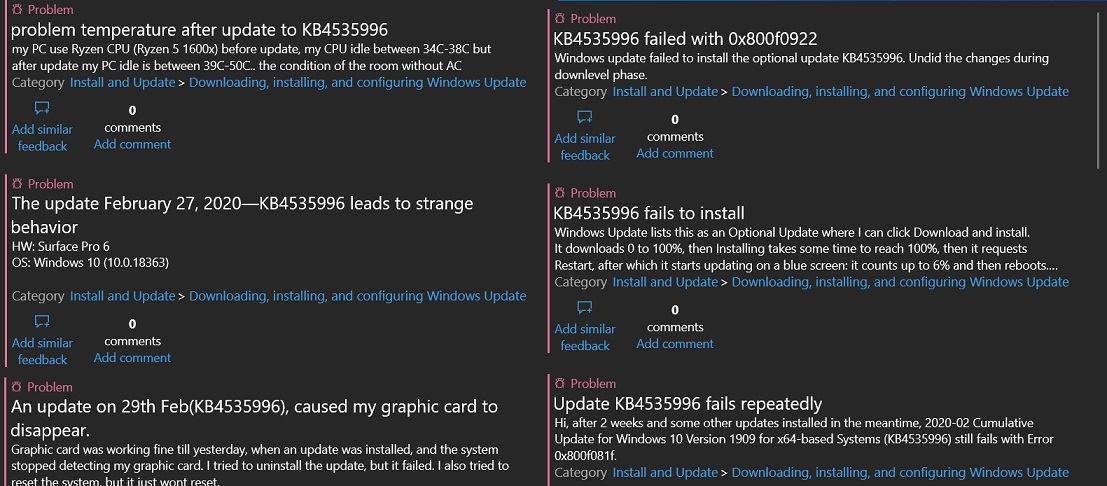 In our comment section and Microsoft's answers forum, some users said they experienced 'random freezes', traditional BSOD errors, and other performance issues after the update.
"Random freezes after KB4535996 on XPS 15 with up-to-date drivers. Uninstalled the update and freezes are gone," a user noted in our comment section. "I just had this update on my PC and now it will not boot. Fails the BIOS POST test with a series of beeps, completely blank screen," another user complained.
It also appears that some users have been hit by a bug brought in by the latest optional update which is causing sound adapters not to work. The bug appears to be brought in by optional Windows 10 KB4535996 update and it causes certain sound adapters such as SoundBlaster to not work after applying the patch.
There are multiple reports on forums that Windows 10's February 2020 update could cause muffled or distorted sound.
For the majority, Windows 10's latest patch is good, but if installing the patch breaks things on your system, you should consider uninstalling it:
Hit Windows+I to open the Settings app
Click the "Update & security" option.
On the "Update & security" screen.
Switch to the "Windows Update" tab.
Click the "View update history" option.
Click the "Uninstall updates" link.
Select the update and uninstall it.
As we mentioned above, these preview releases are not installed automatically and they are visible only if you go to the Windows Update page in Settings and manually check for updates. You can ignore the patch and the fixes will be delivered in March's Patch Tuesday update.
Windows Update debacle
Users and critics have questioned Microsoft's update testing process after recent failures. Windows Insiders are a huge part of the testing phase of Windows and the latest optional update was also tested in the Release Preview Ring, but sometimes issues slip through.
In February 2020, Microsoft shipped a cumulative update that reportedly deleted desktop files and another update was removed after users reported boot failures.
It's important to understand that Microsoft is using people who manually 'Check for updates' and download the optional update as beta testers for Patch Tuesday release. If you don't install a particular optional update, nothing happens and it will disappear when Microsoft rolls out Patch Tuesday update.