Back in the old days, when Windows 7 was Microsoft's flagship operating system, users were allowed to stream the music playing on the phone to their PCs over Bluetooth without third-party apps.
On Windows 7 or older versions of Microsoft's OS, you could right-click on Bluetooth icon in the system and select the 'Add a device' option. From there, you can search for your smartphone or feature phone that you want to use for streaming music and add it.
During the process, all necessary peripheral drivers were installed. After the process is complete, you can access the internal storage of the phone, send files, and play music. On Windows 10, you can still browse the internal storage and send/receive files, but the feature to play music is no longer available.
Windows 7 supported A2DP sink, which allowed users to play music on your phone and listen to it on your desktop's speaker.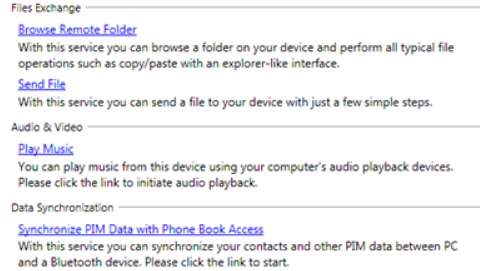 According to Intel's support doc, Microsoft dropped support for A2DP sink on Windows 10 and you can no longer stream music from your phone to PC.
"You won't be able to receive audio from other Bluetooth devices via A2DP. For example, you won't be able to stream music from your mobile phone to speakers on a Windows 10 PC," Intel noted in a document last updated in 2018.
In the codebase of Windows 10 preview builds, references to Bluetooth's A2DP Sink feature has been spotted again, suggesting that the feature is making a comeback.

In an upcoming update of Windows 10, you'll be able to play music on your phone and listen to it on your computer's speaker over Bluetooth. Microsoft could also add a remote control to the taskbar, which existed on Windows 7 for A2DP connections, so you can manage the music player easily.
Microsoft has yet to confirm the new Bluetooth feature for Windows 10 and it remains unclear when it will make a comeback.
Microsoft is also working on Bluetooth EATT support for Windows 10 to improve the quality of connections.