Windows 10 X is a new edition of Windows 10 designed for Surface Neo, Lenovo ThinkPad X1 Fold and other dual-screen devices. Microsoft is currently planning to ship Windows 10 X in 2020 holiday season and the tech giant is still working on a customized interface for these devices.
Windows 10 X features a familiar user-interface but it comes with significant backend changes. Over the years, File Explorer has remained an essential part of the Windows experience and it has evolved, but the user-interface is not modern and there are performance issues associated with it.
While Windows 10 has deep roots in File Explorer, Windows 10 X doesn't ship with the legacy Win32-based programs such as File Explorer and Control Panel.
A leak in 2019 confirmed that the company is working on a new modern File Explorer and more hints were dropped at the CES 2020.
Windows 10 X running on Lenovo ThinkPad X1 Fold currently uses a modern File Explorer that was previously seen on Windows 10 Mobile and it's unfinished.
At this point, it's not clear whether Microsoft plans to update the existing UWP File Explorer or create a new one altogether, but a new file managing experience is in the works.
Mix of desktop and mobile interfaces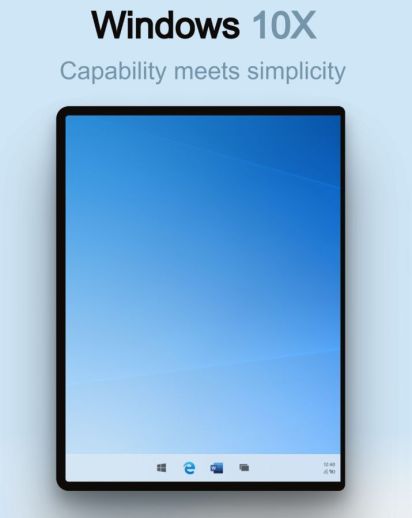 The changes included in Windows 10 X are far beyond the new Start menu 'Launcher' experience and File Explorer. The 10X also ships with a new Taskbar, new Action Center and new multitasking features, which makes it a blend of traditional desktop interfaces with mobile-like features.
At CES 2020, we've seen a version of Windows 10X that is strictly aimed at tablet users, but we've heard that the company is working on different "levers" or variants to provide a more traditional experience.
For laptops and traditional 2-in-1 devices, Microsoft is working on a left-aligned taskbar, support for more taskbar icons and similar changes.