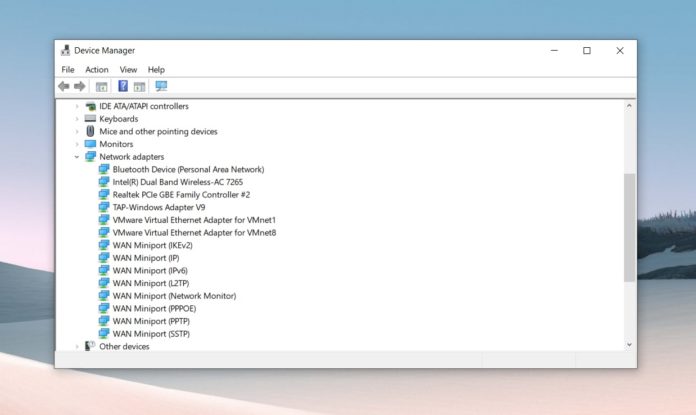 If your computer uses Qualcomm WiFi adapters, you cannot update to Windows 10 November 2019 Update—the latest iteration of the operating system that brings Favored Cores and new search experience for File Explorer.
Microsoft says it has placed an upgrade block that will prevent you from installing Windows 10 version 1909, version 1903 and even 1809. This is because of the older Qualcomm WiFi adapters causing issues with WiFi connections on Windows 10.
The update is also blocked on Update Assistant and Media Creation Tool.
Microsoft recommends users to manually check for updates and install the new Qualcomm drivers when offered. In theory, if you have the new drivers installed, you should be able to update to Windows 10 version 1909.
If you're running an older driver, and no update is available via Windows Update, you can try updating the WiFi drivers manually:
Open Start menu and search 'Device Manager'.
Click on Network adapter Within Device Manager and you can see all the installed adapters.
Right-click the Qualcomm adapter and select Update.
Allow the Device Manager to search for updates automatically and wait for it to complete the process.
If you are able to update the driver by following the steps outlined above, you'll be fine. However, if you're still running the older driver, and no update is available via Device Manager as well, you need to manually install the driver and it's a complicated process.
Update Qualcomm WiFi adapter drivers on Windows 10
Download the WiFi adapter drivers from here and save the files in the Documents folder.
Open Documents folder and double click on the file named 'qcamainext10x-4-0-3-262-msx64_19fcb71525109fd2831d5a40944ded5663ec6af1.cab'.
Select all files with CTRL+A keyboard combo.
Right-click on any of the files.
Select Extract.
Create a new folder named 'Qualcomm Wi-fi driver'
Click on Extract option and open Device Manager.
Find the Qualcomm Wireless Network Adapter / Killer Wireless Network Adapter.
Right-click and select Update.
Select the Browse my computer option and find the folder you downloaded the drivers.
Select OK to update the drivers.
Reboot your system.
After following these steps, you can now download and install the November 2019 Update on your PC.