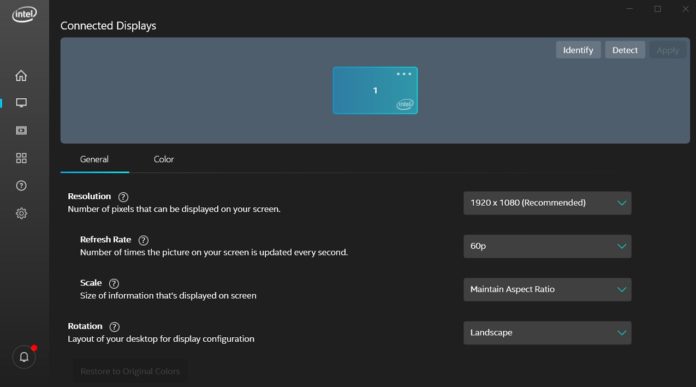 Intel is rolling out a new version of its DCH graphics driver for Windows 10, advancing the version number to 26.20.100.7323. The biggest highlight of Intel's graphics driver update is support for the Windows 10 November 2019 Update, also known as version 1909.
Windows 10 November 2019 Update, which is expected to be released to the general public next month, will run without any major issues on a PC that has Intel DCH driver 26.20.100.7323 or newer.
In our testing, Windows 10 November 2019 Update operated smoothly with the new Intel graphics driver. It's also worth pointing out that performance remains unchanged even if you use the older version of the graphics driver with Windows 10 version 1909, but newer version could help you mitigate potential compatibility issues.
Here's the full changelog of this driver update:
Fixes an issue where some gamers may experience crashes when resizing Ultra-HD Blu-Ray PowerDVD playback.
Issues observed in Arma 3, Creo has been addressed.
Includes fixes for Intel Direct3D 11 extension.
Another bug where screen blinks during the test of the 3DMark Time Spy benchmark has been resolved.
A bug causing the system to hang when unplugging detachable internal panel is fixed.
Includes security improvements for all 10th-gen processors.
According to Intel, the update should address a bug where graphical anomalies are observed on Windows 10. The issue can be experienced when resuming laptop or 2-in-1s from sleep.
The following Windows 10 versions support latest Intel DCH graphics driver:
Fall Creators Update (1709), April 2018 Update (1803), October 2018 Update, May 2019 Update (1903), and November 2019 Update (1909).
All necessary Intel drivers are shipped automatically through Windows Update, but you can use the Driver Assistant and Support Tool from Intel to download and install the most up-to-date driver.
After downloading the Intel Driver & Support Assistant Tool, you have to launch it from the system tray and follow the simple click-based wizard. You will need to click the update button from the tool's website to install new drivers for the graphics card, WiFi adapter, and even Bluetooth.
Driver update may not show up
It's also important to understand that installation of Intel's updated graphics drivers might fail and Driver Assistant Tool will show graphics card as up-to-date on some computers.
In this case, it's possible that your computer manufacturer manages Intel drivers and you should look for drivers from their website, not directly from Intel.
Unfortunately, you won't find these graphics drivers updated on manufacturer's site and you will have to wait for weeks or months for a newer version of the graphics driver.
Some manufacturers will begin shipping updated drivers next month when Windows 10 November 2019 Update rollout kicks off.