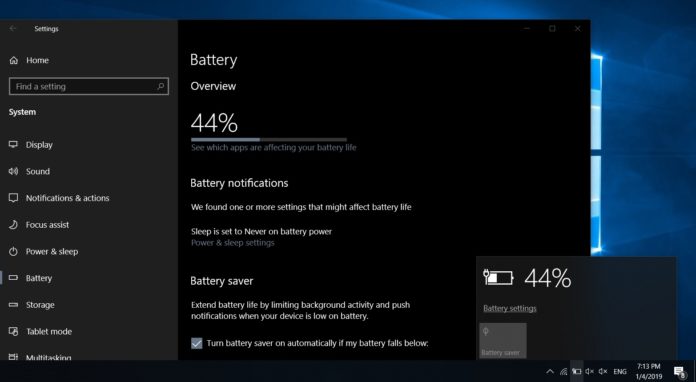 Microsoft is expected to announce Windows 10 version 1909 (codenamed 19H2) later this week and it's practically going to be a service pack.
Release Preview Ring Insiders have already been offered Windows 10 version 1909 and it will apparently roll out to all supported computers in a few days.
Microsoft originally announced that Windows 10 19H2 update will arrive in the second half of 2019, either in September or October. As the ESDs were spotted on WSUS (Windows Update servers) recently, it's likely that the update is in the final phase of development.
Microsoft confirmed in July itself that Windows 10 version 1909 will ship with a limited set of improvements, enterprise features and quality enhancements. In theory, Windows 10 version 1909 is slightly larger than a standard cumulative update, but it comes with some important improvements like rotation policy for favored CPU cores.
Windows 10 version 1909 will boost your laptop's battery
Microsoft states that Windows 10's 19H2 update also includes general battery life, which technically means that some laptops, 2-in-1s or notebooks will see better battery longevity.
Microsoft has also worked on better power efficiency improvements for desktops with certain processors.
'"We have made general battery life and power efficiency improvements for PCs with certain processors," the firm stated.
Computers with May 2019 Update installed will receive the update as a small patch via Windows Update and installation will complete in a few minutes.
In our testing, Windows 10 version 1909 downloaded and installed like a standard monthly update within 12 minutes on a Windows 10 May 2019 Update PC.
If you upgrade to Windows 10 version 1909 from October 2018 Update or older, you will have to download the entire package and it won't be the smallest or quickest update.
Microsoft using Machine Learning to address Windows Update woes
In related news, Microsoft detailed how it has used its Azure-based Machine Learning (ML) to fix various Windows Update problems. With ML, the company has also managed to reduce the likelihood of experiencing issues when installing the feature or monthly update.
The machine learning has improved the update process gradually and the system will be used for Windows 10 19H2 update as well. You can expect Windows 10 version 1909 upgrade process to be smoother than any previous version of Windows 10, but there'll be some compatibility issues as always.