Microsoft has just patented a foldable Windows 10 device that could be for the highly-anticipated Surface Centaurus. In the filing, Microsoft has detailed a new fluid-based technology to reduce stress on display during the rotation and improve the durability of this complex device.
The foldable devices have a flexible screen made of plastic and there is a complex hinge that makes the devices more breakable than smartphones and 2-in-1s. A complex hinge system is going to fail eventually. And while it's impossible to find a replacement for a hinge system on such a device, Microsoft appears to have discovered a technology to make the hinge and rotation stronger.
A patent titled 'HINGED Device' was published by USPTO on September 12 and it shows off another innovative device from the Redmond firm. The patent is for a dual-screen foldable device with a fluid-filled deformable member that can deform so that the flexible display can maintain a minimum bend radius.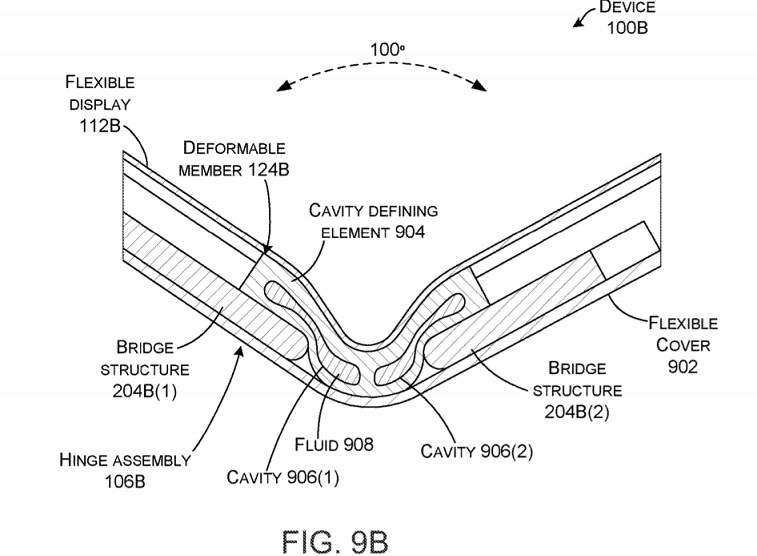 As you can see in the above drawings, the fluid-filled deformable member is positioned between the flexible display and hinge system to facilitate smooth rotation.
"The cavity defining element can define one or more cavities that can contain a fluid 908. The cavity defining element can be any type of flexible material, such as various polymers, that is impermeable to fluids (seals fluids within the cavity). The fluid can be any type of gas or liquid. In the illustrated implementation, the fluid is a semi-viscous fluid that moves slowly within the cavity at operating temperatures of the device. For example, the fluid could be an oil, such as vegetable oil, among other fluids," the Redmond firm noted.
For the time being, addressing durability concerns of foldable smartphones remain an unachieved challenge, though that will seemingly change soon, probably with Microsoft's Surface Centaurus.