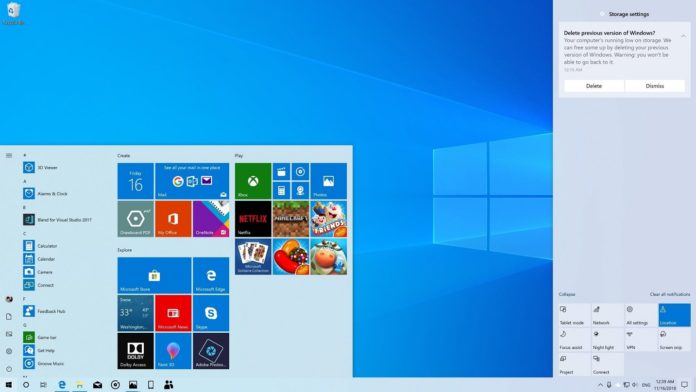 Microsoft is offering Windows 10 May 2019 Update (version 1903) to devices in stages to ensure best results and fewer complaints. Microsoft now lists Intel RST driver issue for Windows 10 version 1903 as mitigated, as the compatibility issue has been resolved with KB4512941.
As of September 10, Microsoft has also removed the upgrade block and Windows 10 version 1903 is now available to all devices with any version of Intel RST driver installed. Microsoft says that it can take up to 48 hours before the update notification shows up on your PC.
For example, if you checked for updates and compatibility error appeared on your device, it may take more than two days before you can update to Windows 10 version 1903.
"This issue was resolved in KB4512941 and the safeguard hold has been removed. Please note, it can take up to 48 hours before you can update to offered Windows 10, version 1903," Microsoft said.
Upgrade notification
In another announcement, the firm noted that some Windows 10 October 2018 Update users on August 29 may have received Windows 10 version 1903 upgrade notification early. Regardless of the update reminder, Microsoft explained that you can decide when you want to install Windows 10 version 1903.
"We've had reports on August 29th that some customers running Windows 10, version 1809 (the October 2018 Update) have received notification to install the latest feature update (version 1903) early," the software giant said.
Windows 10 May 2019 Update has always been available for users who manually check for updates in Windows Update. However, users who haven't manually looked up for updates will receive an upgrade notification with the following options:
Pick a Time
Restart Tonight
Restart Now
If you are prepared for Windows 10 May 2019 Update, you can click on 'Restart now' or you can simply dismiss the notification as you do for any other apps.
PCs with April 2018 Update also getting the update
Our Windows 10 April 2018 Update PC finally received the upgrade notification with a warning that says support for the OS will end in November.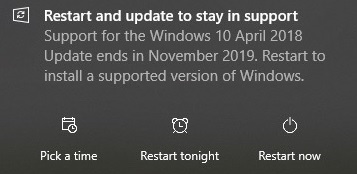 Again, there are three options and users will have full control over Windows Updates installation for the time being.