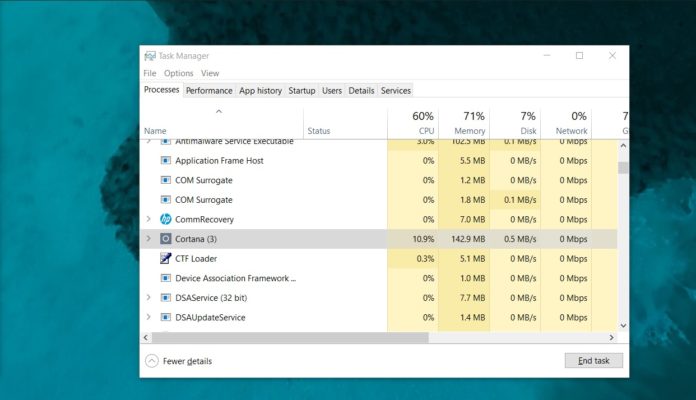 Microsoft has just shipped Windows 10 KB4512941 to anyone who hits the 'Check for updates' button in Windows Update and click on the new 'Download and install now' option, which has been made available for optional updates or feature updates.
Windows 10 KB4512941 fixes the broken Windows Sandbox, black screen issue hitting Remote Desktop connections and several other bugs. However, some users have run into serious problems after installing the latest update that advances PCs to Build 18362.329.
According to various reports on forums (1, 2) and Feedback Hub, a number of devices may startup with a high CPU usage problem, degrading the overall performance of the systems. The culprit appears to be a botched version of Cortana that the firm has reportedly shipped in this release.
The Cortana (SearchUI.exe) process is generating CPU usage spikes for some users and the process has recorded a bump of around 30-40 percent in Task Manager, though the usage depends on the number of cores a processor has.
"After installing KB4512941 (OS Build 18362.329) the pop-out window with the search results stays blank, SearchUI.exe is constantly using CPU and ~200MB of memory," a user documented the problem on Microsoft's Feedback Hub.
"Cortana is consistently running above 35% CPU usage and 150 MB memory as reported by Task Manager, for at least one day now. Despite this fact, using the Search button next to the Start Menu pops up a dialog that will not display any items upon entering any search query, even after waiting for several minutes," another user complained about the CPU usage on Feedback Hub.
Testers reported the problem
It's important to note that Microsoft actually tested KB4512941 with Windows Insiders in the Release Preview Ring for more than a week before shipping the update to the general public.

According to some posts on Feedback Hub, reports of high CPU usage were submitted multiple times by testers earlier this week, but the reports appear to have been ignored because they weren't upvoted enough.
How to fix Cortana (SearchUI.exe) high CPU usage
Some users have claimed that deleting a Registry key, which prevents the Start menu search from sending local search queries to Bing, resolves the CPU usage problem.
Computer\HKEY_CURRENT_USER\Software\Microsoft\Windows\CurrentVersion\Search
Reg Name: BingSearchEnabled
Reg Value: 0
If you don't want to play with Windows Registry, you should consider uninstalling the update. You can uninstall this cumulative update by following the steps outlined below:
Hit Windows+I to open the Settings app.
Click the "Update & security" option.
On the Update & security screen, click the "View update history" option.
On the next screen, click the "Uninstall updates" link.
Select the update (KB4512941), and then click the "Uninstall" button.
Microsoft hasn't acknowledged the problems with the optional August update yet.