The Redmond-based Microsoft has patented a Surface Pro design upgrade at USPTO that features a new touchpad in the front. Microsoft might be working on a new Surface Pro where the touchpad features multiple touch input zones.
Spotted by us, Microsoft patent filed in February 2018 is titled 'Layout for a Touch Input Surface' and it was published by the USPTO on August 15, 2019. In the filing, Microsoft noted that current touchpad implementations are static and simply provide a cursor control, but there's room for significant improvements.
Microsoft patent hints at techniques to enable a combination of touch input surfaces to be characterized as a single logical input surface. The single logical input surface is divided into different touch input 'zones' and each zone can receive touch input to invoke a different respective functionality.
"For instance, when an operating system or other system process is in focus, the touchpad can be configured into different zones based on a particular zone layout defined for the operating system," Microsoft noted.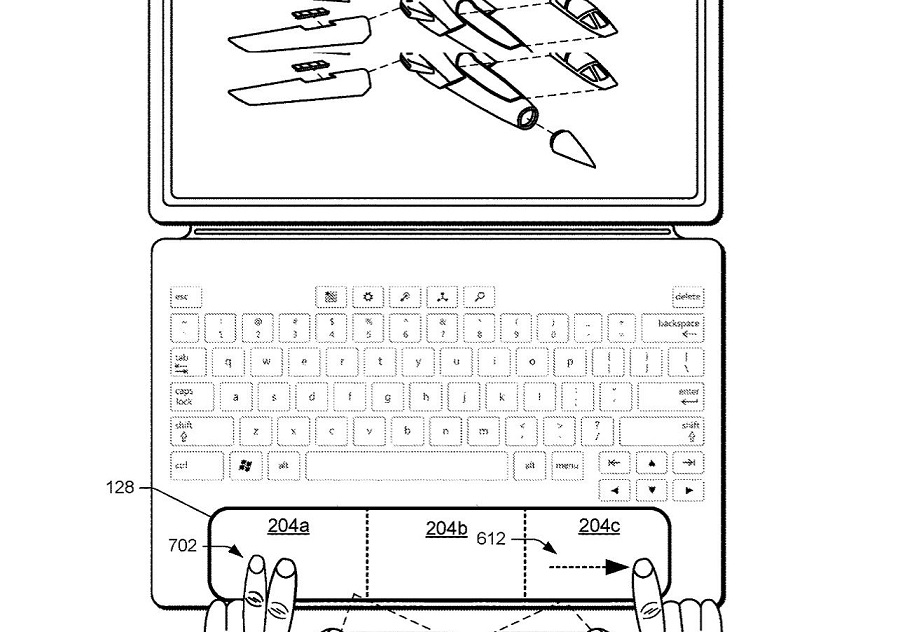 Microsoft has also shared details of gestures and how the zone would work. According to the description of the device, one of the gestures would be a 'press and hold gesture in the zone using two fingers' as shown in the above drawing.
Another gesture involves two fingers, i.e., the index finger and the thumb.
"One example of the gesture is an "expand" gesture, such as to zoom in on a visual item. Generally, the gesture is interpreted according to the zone functionality defined for the zone, and thus invokes a particular functionality," the company explained.
"The gesture, for instance, is a slide gesture within the zone. In this particular example, the zone functionality corresponds to moving a cursor within the visual environment. Thus, user input to the zone of the touchpad causes a corresponding movement of the cursor," the patent reads.