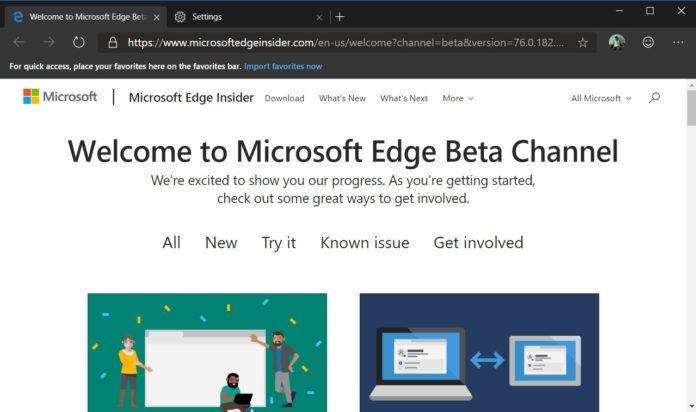 Microsoft has shared the roadmap of the upcoming features and improvements for the Chromium-based Edge browser. The Edge team also revealed that feedback from testers has helped Microsoft to introduce features such as dark theme, built-in Bing Translate, privacy controls, favorites bar and more.
The company has also highlighted the changes it plans to introduce in the Canary channel next month:
Edge will finally get a built-in feature to block auto-playing video audio.
Scrolling improvements.
Microsoft is also adding a favorites button to the toolbar and it will be similar to the one we have in classic Edge. The feature has already been enabled for some users in the Canary channel.
Microsoft is working on the following features for October release:
The new Microsoft Edge will also allow you to sign PDF documents with a stroke of your stylus.
The profile picture in the bar will be updated more often. Microsoft is also improving support for multiple profiles in Edge.
You will be able to customize the background image on the New Tab Pae (NTP) with your own wallpapers or photos.
The Edge extensions store will get search integration.
Apart from the aforementioned improvements, the Redmond firm is also working on a series of changes to reduce CPU and memory usages.
Microsoft Edge is currently available through Beta channel, which receives updates every six weeks, Dev channel, which is updated once a week, and Canary which is updated regularly.
Edge Stable leaked
In related news, Microsoft has also launched the first beta update of Edge browser. Unlike the Canary version of the browser, the beta version will receive major updates every six months.
Edge Beta is not complete in all aspects and it doesn't come with all the features which are available in the Canary version.