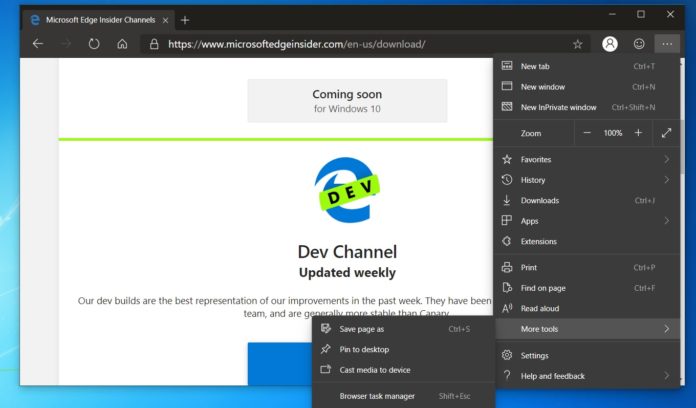 Microsoft has released a new update for its Chromium-based Edge Dev. The new build 77.0.235.4 is now available for download with improvements and a number of fixes.
Microsoft Edge Dev Build 77.0.235.4 provides users with the option to turn off the translator for any webpage they want. The company has also added the ability to 'never translate' pages in a particular language.
Microsoft is adding a new button to maximize the feedback screenshot editor window. The Redmond firm has also added the ability to resize the feedback diagnostic data window and group policies support for the Smart Screen is also available.
The company has fixed a bug crashing the browser when users typed in the address bar. Another crashing issue experienced during the first run has been addressed.
The following bugs have been fixed to reduce crashes:
Fixes an issue where the browser crashes on startup.
Fixes an issue where Settings page would crash the browser.
Sites which used single sign-on caused the browser to hang has been fixed.
Microsoft is also fixing broken icons of webpages pinned to the taskbar.
There are also other important fixes mentioned below:
An issue where videos on certain sites like Netflix sometimes become hidden has been fixed.
An issue where print preview sometimes doesn't render all pages has been fixed.
Fixes issues with the search engines that have been deleted reappear the next time the browser is opened.
Microsoft also fixed an issue where invalid data was being shown in certain form autofill popups.
For Mac users, an issue where light or dark theme isn't properly applied to system pages like Favorites has been fixed.
An issue where sign-in popups sometimes didn't show the correct window icon and title.
All these changes are also available for Canary users. You can update Microsoft Edge to the latest version from the About section of the browser.