Microsoft is working on a new and unified Windows experience internally codenamed Windows Lite OS. The company has not confirmed any public details surrounding Windows Lite, but the initial reports revealed that the OS would run on various devices ranging from dual-screen hardware to affordable 2-in-1s.
Windows Lite is stated to deliver better performance, a unified Windows code experience, and improved security. Microsoft has also started preparing shells for LiteOS to deliver a customized and tailored experience on different form factors.
Windows Lite also has a shell called 'Santorini' and it could power Microsoft's long rumoured dual-screen Centaurus. Rumours suggested that Centaurus could be a device with both Windows Core OS plus the LiteOS' Santorini shell or just Windows Lite OS.
For reference, the Greek word 'Santorini' represents one of the Cyclades islands in the Aegean Sea.
Santorini reference shows up
A new reference of Santorini has appeared in Windows 10 20H1 Build 18934 as Microsoft makes progress in enabling Windows to work on foldable and dual-screen form factor devices.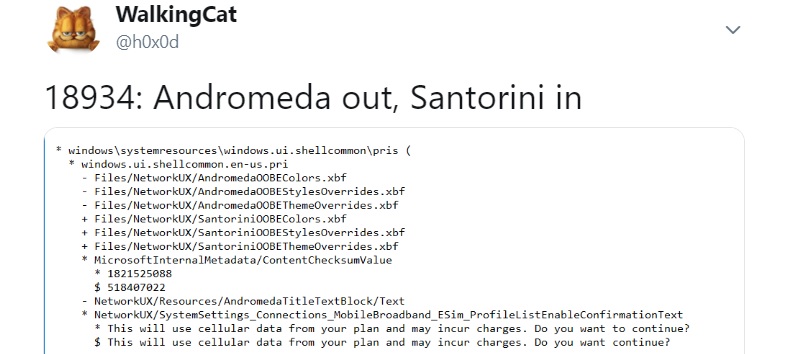 The mentions of Andromeda mobile shell, which was part of Windows Core OS, have disappeared from Windows 10 20H1 bits.
Microsoft's pocketable Andromeda may have been delayed as there's still no compelling reason for the software giant to bring a foldable mobile form-factor device to market, while a large dual-screen device like Centaurus makes more sense.