Microsoft could be considering adding a display or status bar panel to its Surface Pen. Microsoft appears to have a bright idea to make the Surface Pen more user-friendly by adding a status bar that has indicators of battery and even email notifications.
First spotted by us, a new patent application titled 'Dynamic Interaction Adaptation of a Digital Inking Device' was filed by Microsoft in late 2017 and published by USPTO on June 13, 2019.
Basically, this patent adds a panel to the surface of the pen to address various problems of a stylus. In the background of the patent, Microsoft says that it is difficult for a user to determine a selected input mode for a digital inking device, but the problem could be solved by enabling dynamic interaction adaptation on the pen.
The patent points to new techniques that enable 'dynamic device interaction adaptation' of the stylus. Microsoft says a stylus can select its interaction model and the selection of an interaction model can be based on one or more factors. For example, the selection would be different when the device is held by the user and it can be also based on its angle or distance from the computing device.
As shown in the drawings, a stylus may display the first set of UI control elements and the first set of status indicators when in contact with a paired computer. The same digital inking device may transition to another interaction model to display the second set of UI control elements and the second set of status indicators when the digital inking device is not in contact with, or near, a paired computer.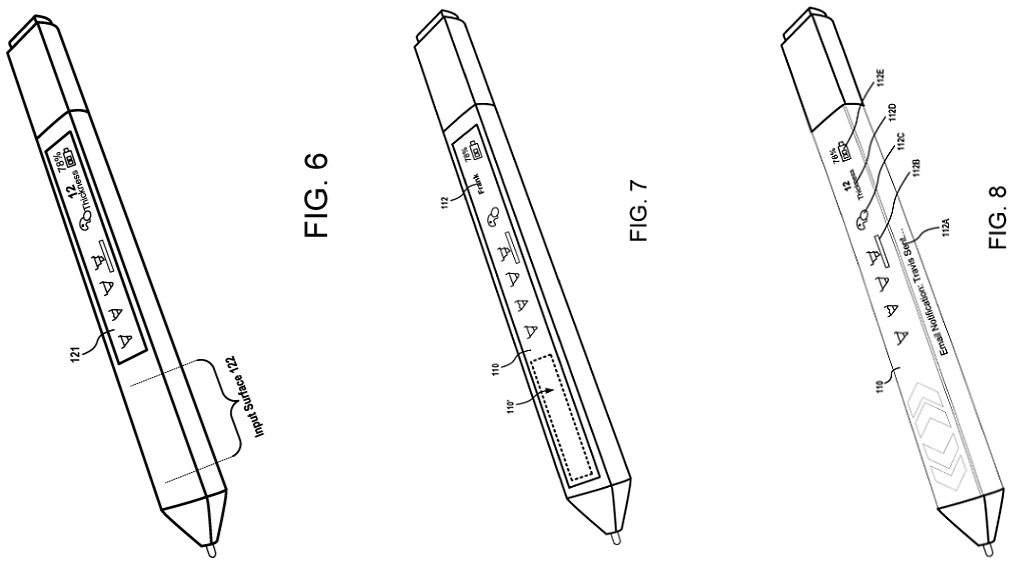 In another case, Microsoft says that the pen can also display select status indicators and UI controls when it is not in contact with a computing device. The pen may turn off its status indicators and the UI controls when the inking is on contract with the paired Windows 10 device.
Interestingly, the pen also renders email notifications in both cases.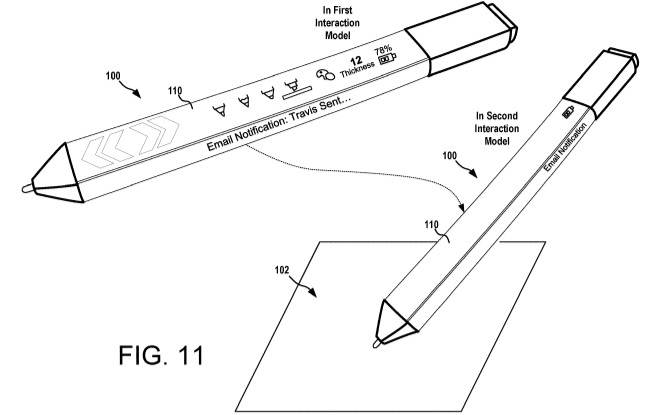 "In this example, while operating in the second interaction model, the digital inking device only displays an email notification and a portion of a battery status indicator. This example is provided for illustrative purposes and is not to be construed as limiting. Any type of notification can be displayed when the pen 100is operating with either interaction model," Microsoft explains.