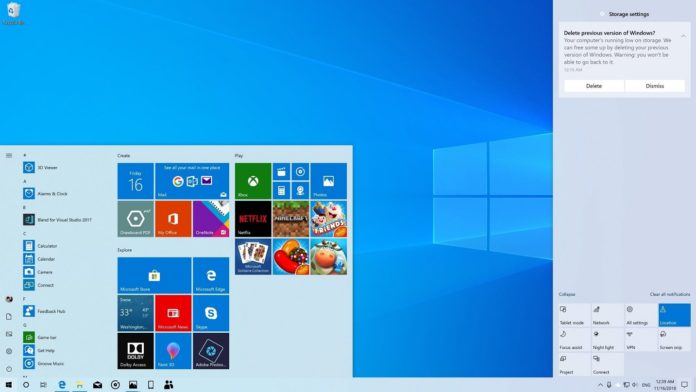 Microsoft has announced that Windows 10 May 2019 Update (version 1903) is now available for download to seekers (advanced users). Anyone who is interested can manually download and install Windows 10 May 2019 Update through Media Creation Tool or ISO packages.
The update is being rolled out gradually and it may not show up on all devices at the moment, especially on devices with incompatible drivers.
Windows 10 version 1903 introduces big improvements like Windows Sandbox and a new light theme experience, but it has its own known problems that Microsoft has acknowledged.
At the moment, Windows 10 May 2019 Update has three known issues. In the support document, Microsoft has confirmed it is investigating the problems and upgrade has already been blocked on incompatible configurations.
Display brightness problem
On PCs with certain Intel drivers, brightness settings may not work as intended. Microsoft says that the display brightness may not respond to adjustments. This means the actual display brightness won't change when you make changes to the brightness settings.
Microsoft has applied compatibility hold on devices with certain Intel drivers from being offered Windows 10 version 1903 until this issue is resolved.
If you've forced the update on your PC and you're experiencing the aforementioned problems, you've to restart your PC to see brightness changes.
"Note We recommend that you do not attempt to manually update using the Update now button or the Media Creation Tool until this issue has been resolved," Microsoft explains.
Audio not working with Dolby Atmos headphones and home theatre
Microsoft is aware of another problem where you may experience audio issues with Dolby Atmos for home theatre (free extension) or Dolby Atmos for headphones acquired through the Microsoft Store due to a licensing configuration error.
Microsoft is also blocking the update from showing up such devices until the fix is ready. The company says a solution will be available in mid-June.
Duplicate folders and documents showing in user profile directory
Microsoft is also blocking the update on devices that uses redirected known folders.