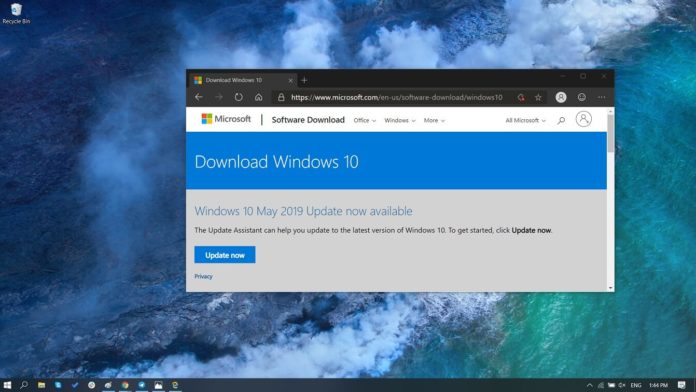 Microsoft is finally rolling out Windows 10 version 1903 to millions of compatible PCs. The company has also published Windows 10 May 2019 Update ISO files and you can use the package to upgrade your PC.
You can also download ISOs of Windows 10 May 2019 Update (version 1903) to perform a clean installation. A clean installation is the best option to remove everything from the local drive including apps and settings. It allows you to start from scratch and as well as address performance or other issues.
With ISO files, you can install the operating system on multiple devices without the need to re-download it. You can also upgrade your PC directly from the ISO, or create a bootable USB drive.
It's important to understand that Microsoft doesn't offer ISO files directly on its website if you access the download page from a Windows 10 device. You're only given the choice between Update Assistant or Media Creation Tool.
Update Assistant is an update management tool designed to download updates automatically and manage the timing of updates. On the other hand, Media Creation Tool can help you create a bootable USB drive with Windows 10 installation media. Both applications won't offer you direct access to ISO packages.
Fortunately, there is a trick that will allow you to directly download Windows 10 version 1903 ISO files.
Windows 10 May 2019 Update ISO download size
If you install the update through Windows Update, the size would be less than 3GB. However, the size of the ISO image is a lot more than that.

For 64-bit system, the download size of Windows 10 May 2019 Update ISO is around 4.6 GB, roughly 4600 MB.
On an 80Mbps internet connection, you can download the file in less than 9 minutes. It should take up to one hour on a 10Mbps internet connection.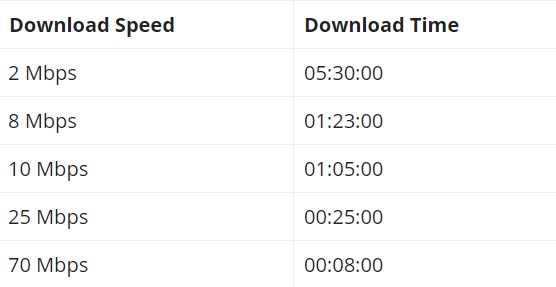 How to download the Windows 10 May 2019 Update ISO file
To download the ISO file of Windows 10 May 2019 Update without using the Windows Media Creation Tool, you've to modify the default settings in your web browser.
Download direct ISO file with Google Chrome
If you use Google Chrome, here are the steps to download the ISO images.
Launch Google Chrome
Open Microsoft's website in Chrome.
Press Ctrl + Shift + I to access developer tools.
Toggle device toolbar with Ctrl + Shift + M if the toolbar is not showing.
Select Google Pixel or iPhone, as shown in the screenshot.

The page will reload automatically.
Select May 2019 Update under editions.
Select language and correct system configuration to download the file.
Download direct ISO file with Microsoft Edge
Here are the steps to download a Windows 10 ISO file using Microsoft Chromium Edge.
Download and install Chromium Edge from here.
In Edge, go to Microsoft's ISO download page.
Open menu > More tools and tap on 'Developer Tools'.
Press Ctrl + Shift + M to access device toolbar.
Tap on 'Responsive' and select iPhone or Google Pixel.

Refresh the page if it doesn't reload automatically.
Select Windows 10 and your language settings.
Download the 64-bit version of Windows 10.
It's worth noting that the download link expires after 24 hours, so make sure that your internet connection is good enough to finish download within a day.
How it works
By following the above, you are basically setting your user-agent to iPhone or Pixel. This would convince the website to think you are not on Windows, thus you can access the ISO files instead of the Media Creation Tool.
If you have concerns about file size, you can use the Media Creation Tool and create a bootable USB drive. The size would be approximately 500 MB smaller than the direct ISO file, but you should download the ISO files directly if you're on a slow internet connection with limited data.
Wrapping up
Windows 10 May 2019 Update was launched yesterday and Microsoft has said that it will take a new measured and throttled approach towards the rollout. It means that the PC won't upgrade itself automatically and surprise you with new changes.
The update will show up when you'll check for updates, but the download won't begin unless you click on 'Download and install' button.
Windows 10 version 1903 introduces multiple improvements for Windows Update and more. One of the handy features is an update icon that lives in your taskbar to remind you when future updates are available for installation.
It's worth noting that this new version of Windows 10 is not as ambitious as previous versions. The important features are Windows Sandbox, new light theme, support for Kaomoji and more.
If you dig deeper, you might find some other handy capabilities such as a brightness slider on Action Center, an improved Focus Assist feature and a better way to deal with DPI issues.