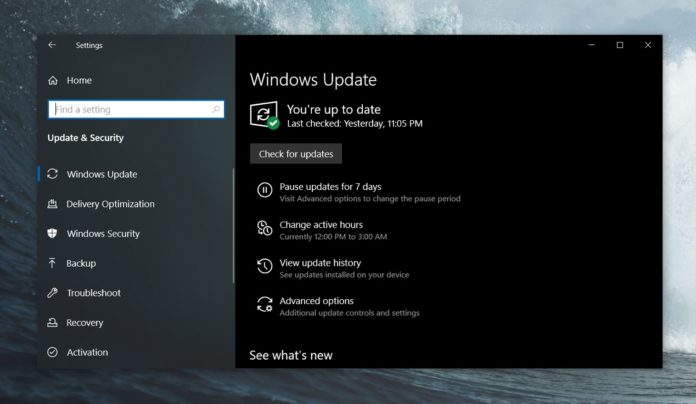 Microsoft yesterday released a new batch of cumulative updates for Windows 10 with security and non-security improvements. Microsoft also published Windows 10 KB4494441 for October 2018 Update as part of the Patch Tuesday, but users are reporting a weird issue where the update would install two times.
For unknown reasons, Windows 10 KB4494441 has been installed twice on a number of devices. Fortunately, Microsoft has already acknowledged the bug and the company is expected to share more details soon.
As per a Reddit discussion, KB4494441 installs without any problems when the user checks for updates via Windows Update. After the system reboot, KB4494441 is re-offered to some users again and it would require another reboot to finish the installation.
Windows 10 cumulative update isn't offered for the third time and it'll display 'You're up to date' message if you check for updates again. Users have also noticed that the update will be listed twice on the Windows Update history page.
"2019-05 Cumulative Update for Windows 10 Version 1809 for x64-based Systems (KB4494441) (2) Successfully installed on 5/14/2019," the history page reads.
"Yeah, I seem to be installing it for the second time as well," a user confirmed the problem in a Reddit thread.
In some users, the update doesn't install correctly in the first attempt. After the first install, Windows 10 Build stands at 17763.475 and it actually increases to Build 17763.503 when the update is installed for the second time.
To check if your PC was updated properly, open Settings > About and verify the build number. The May 2019 patch for October 2018 Updates advances the systems to Windows 10 Build 17763.503.
It's also worth mentioning that you'll not face any problems if the update installs twice.
As mentioned, Microsoft has already acknowledged the problem and the company will share more details soon.
"Windows 10, version 1809 Update Tuesday update may install twice. We are presently investigating and will provide an update when available," Microsoft acknowledged the bug in an updated blog post.
Microsoft says that the update may require multiple downloads and restarts to finish installation properly and Windows Update history page will report that installation completed successfully twice.
"No action is required on your part. The update installation may take longer and may require more than one restart, but will install successfully after all intermediate installation steps have completed. We are working on improving this update experience to ensure the Update history correctly reflects the installation of the latest cumulative update (LCU)," Microsoft explains.
After updating the device, everything appears to be working properly for the users and there is also no reports of failed installations.
May 2019 Patch Tuesday changes
The May 2019 Patch Tuesday rollout for Windows 10 version 1809 comes with important security fixes and also enables Retpoline by default to improve system performance on old PCs.