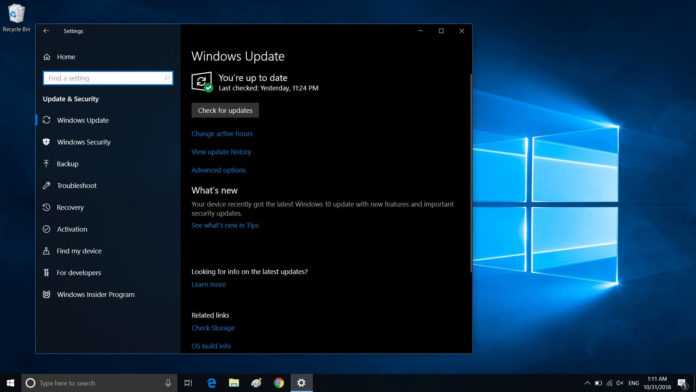 The May 2019 cumulative updates are now rolling out to the compatible Windows 10 versions, including October 2018 Update. Direct download links for Windows 10 KB4494441 installers are also available on Microsoft Update Catalog which is an alternate way to download the cumulative updates.
As expected, Microsoft isn't adding any new features to Windows 10 October 2018 Update with Patch Tuesday updates. The package includes both security and non-security improvements. It's worth noting that most of the non-security improvements included in this release are aimed at businesses and enterprises.
KB4494441 bumps the PCs to Windows 10 Build 17763.503 and as always, you can head to the Settings page to get the patch. If you own multiple PCs or if you wish to update your system without an active internet connection, you can grab the installers from Microsoft Update Catalog.
KB4494441 Download Links for Windows 10
Windows 10 KB4494441 Direct Download Links: 32-bit (x86) and 64-bit.
KB4494441 Windows 10 Build 17763.503 Full Changelog
Today's cumulative update provides protection against a new subclass of speculative execution side-channel vulnerabilities. Multiple security researchers have now discovered a new class of speculative attacks against all modern Intel processors and Microsoft is bundling fix for the vulnerabilities in this release.
Microsoft is also adding some UK government-owned websites into the (HSTS TLD) for Internet Explorer and Microsoft Edge.
Microsoft is addressing an issue that may caused error 1309 when users tried installing or removing certain types of .msi and .msp files on a virtual drive. Lastly, the update finally addresses an issue that prevented Microsoft Visual Studio Simulator from launching on Windows 10.
May 2019 patch also includes security updates for Microsoft Edge, Internet Explorer, Windows Graphics, Windows Kernel, Windows Virtualization, Microsoft JET Database Engine, Microsoft Scripting Engine, Windows Storage and Filesystems, and Windows Server.
Performance improvements
Windows 10 May 2019 Update uses Retpoline to bring robust fixes for Spectre vulnerabilities without affecting system performance. With the latest cumulative update, Microsoft has also enabled Retpoline Spectre mitigation in Windows 10 October 2018 Update (version 1809).
It's been a while since we heard much about Spectre. Back in 2018, when researchers discovered a vulnerability in processors, various fixes were produced to mitigate against the exploits on Windows. The original patch for Spectre resulted in a performance hit, especially on old or mid to low-end hardware.
To address the reduced performance experienced on some system, a new mitigation technique called Retpoline was developed. In March 2019, Microsoft had released Retpoline for Windows 10 October 2018 Update, but it was not enabled by default.
With the May 2019 cumulative updates for Windows 10 version 1809, Microsoft is finally enabling Retpoline by default and you don't have to make any changes to enjoy a speed boost for your computer.
"We're happy to announce that today we've updated Retpoline cloud configuration to enable it for all supported devices," Microsoft announced in an updated blog post.
Microsoft says that it has noticed faster Office apps launches and overall better performance after enabling Retpoline on Broadwell CPUs.
The performance comparison test results on the before and after effects of Retpoline is not available at the moment, but the update does improve performance, especially on old or low-end hardware with Broadwell and earlier processors.
You will not notice performance improvements on PCs with newer Intel chipsets. Ultimately, it's those with older hardware who need the original performance that their dated systems offer.
It's worth noting that Windows 10 May 2019 Update (version 1903) also uses Retpoline to improve performance.