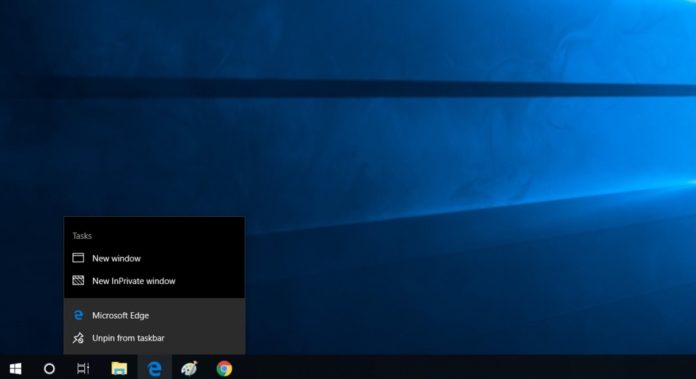 Windows 10 comes with jump lists, a feature that can be accessed from the taskbar and it offers a convenient way to start your apps. For example, you can launch Microsoft Edge browser in incognito mode directly from the jump lists or you can access the frequently visited folders in File Explorer.
Jump lists are pop-up menus and it can be accessed by right-clicking on any program that has an icon in the taskbar. It allows you to view recent activities of a program and you can also use it access features of some apps. For example, right-clicking the Edge browser or Google Chrome icon brings up a quick list of your recently visited websites.
Windows 10 offers a lot of personalization options to change the appearance of the desktop and there are also customization options that are designed to change the look of certain elements such as Taskbar and Start.

In Windows 10 October 2018 Update or older, you can allow taskbar to use the accent colour, but currently, there is no way to expand the accent colour to the jump lists.

With Windows 10 April 2019 Update, Microsoft is updating the jump lists to make them appear more colourful. In Windows 10 version 1903, if you enable accent colour on the taskbar, both the taskbar and start jump lists will be accent-themed. There is also a touch of Fluent design.
To change accent colour of the Start, Taskbar and Jumps lists in Windows 10, navigate to Settings, click on Personalization, and then click on Colours. Pick an accent colour and turn on the option that would show colour on Start, taskbar, and action center quick actions.
According to Microsoft's typical schedule, Windows 10 April 2019 Update (codenamed 19H1) will be released to the general public in April 2019.