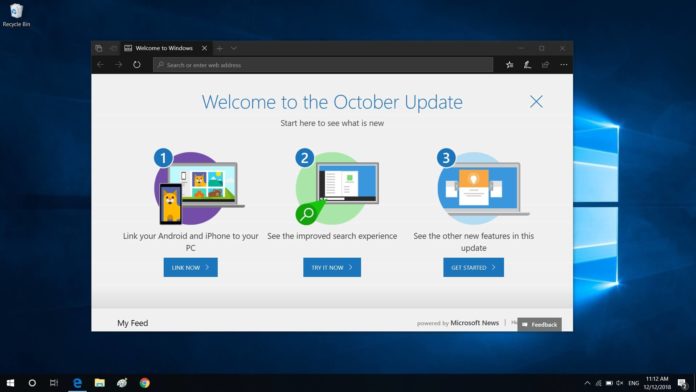 Windows 10 October 2018 Update has been one of the controversial Windows 10 releases in a long time. It was released back in October and pulled a few days after users reported critical issues with the update. Microsoft addressed the reported issues and the Windows 10 October 2018 Update was re-released on November 13.
Today, we're seeing Windows 10 October 2018 Update on more devices if we manually check for updates. We've received it on multiple devices and VMs. The users on Reddit are also reporting that they just received the October 2018 Update on their devices when they manually checked for updates.
It's worth noting that the update only shows up when the user manually checks for it from the Settings app.
"It looks like the update just got delivered to more devices," a user noted in a Reddit post. "My PC is brand new, fresh installed windows without the bloatware back on October 29th, so I was stuck with 1803. It only just now gave me 1809 tonight even though my drives and hardware are in perfect condition. I have no idea what the 'incompatible applications preventing the update' could possibly be but whatever it was it's magically fixed," another user explained.
According to another Reddit post, the Surface users are also seeing the Windows 10 version 1809 if they manually check for updates.

By the looks of things, Microsoft has just pushed the October 2018 Update to another batch of devices. If you're an advanced user, you can grab it by navigating to Settings > Update & Security > Windows Update and clicking the Check for updates box. If you don't want the update now, you can delay it from the Settings and do not check for updates manually as that would make you an advanced user/seeker.
Is your PC getting Windows 10 October 2018 Update today? Let us know in the comments below.