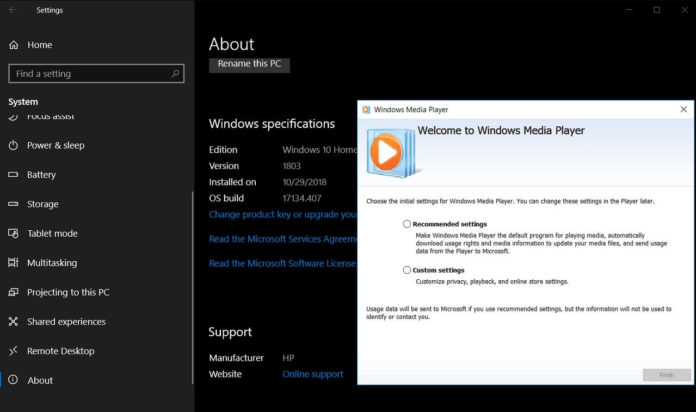 Microsoft recently released new cumulative updates for Windows 10. The updates were released for both Windows 10 October 2018 Update (version 1809) and April 2018 Update (version 1803) with several fixes and improvements.
Today, Microsoft updated the support document of the most recent Windows 10 cumulative updates. The company has acknowledged issues with Windows Media Player in October Patch Tuesday cumulative updates and as well as the November cumulative updates.
According to the updated support documents, there is a new bug in Windows 10 which could negatively impact the Windows Media Player experience.
If you still use Windows Media Player on your PC, you may not be able to use the Seek Bar when playing specific files after installing the latest patches. Microsoft is aware of the problem and the company is working on a fix which could be shipped next month.
"After installing this update, users may not be able to use the Seek Bar in Windows Media Player when playing specific files," Microsoft explains. "Microsoft is working on a resolution and will provide an update in an upcoming release".
Microsoft has already stopped the development of Windows Media Player but the program is available in Windows 10. Microsoft hasn't said it is going to kill Media Player anytime soon and it's likely that the old program will continue to live for a while.
Windows Media Player is not widely used anymore but there are some users who are refusing to give up classic software in lieu of the latest and greatest music service. Microsoft is aware of this and the company will address the issue with the Media Player soon.
Windows 10 October 2018 Update was released last week
Last week Microsoft re-released the Windows 10 October 2018 Update to the consumers and it's gradually rolling out to the users.
If the Windows 10 version 1809 is not showing up on your computer, Microsoft recommends you to wait until the update is offered automatically. You can check for updates and patches via the Settings > Update & Security > Windows Update.
There is another known issue in latest Windows 10 update where the user may not be able to set default apps for specific files.