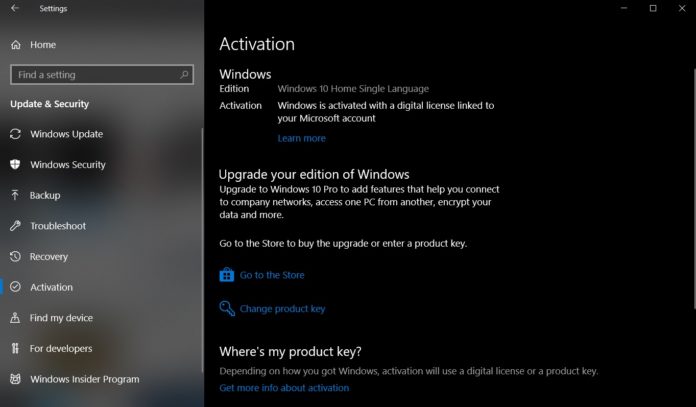 The users are reporting that Microsoft has downgraded their Windows 10 Pro license to Windows 10 Home without any warning this morning. There appears to be a critical problem with Windows 10 activation system as many users are encountering an issue that causes activation problems on their machines.
The growing number of reports point to a server-side bug with Microsoft's activation system. According to the users, the reactivation doesn't seem to work and Microsoft's bug would downgrade Windows 10 Pro to Home in some cases.
"All of a sudden after years of having this key which was from windows 8 pro then migrated to windows 10 for free, I got a notification saying my key is Windows 10 home version and that I need to install it," a user explains on Reddit.
"I am having the same problem. It's even gone as far as my digital entitlement is gone from my Microsoft account and I have a Windows 10 home key now. Windows is deactivated because I went from Windows 10 Pro to home and it doesn't match anymore. Where did my digital license go though.. I hope it comes back," another user posted.
Several users have also documented the problem on Twitter and there is no workaround available at the moment but Microsoft is actively investigating the reports.
A problem with @windows 10 pro activation today. Been on call to Microsoft support number since 8am. Someone did some kind of purge I guess and revoked a number of valid licenses.

— Stephen Collopy (@Sgcollopy) November 8, 2018
A fix is coming
Microsoft support team says that the company is investigating the reports and a fix is expected to arrive soon. If you'll contact Microsoft's chat or call there, the agent will ask you to wait until a fix is deployed.
Microsoft support team reportedly told many users to wait as this is a known issue which is being experienced in several countries including the United States. The number of users who are reporting the issue is growing and Microsoft's support team is trying to help the customers but no workaround appears to be working.
"Microsoft has just released an Emerging issue announcement about current activation issue related to Pro edition recently. This happens in Japan, Korea, American and many other countries. I am very sorry to inform you that there is a temporary issue with Microsoft's activation server at the moment and some customers might experience this issue where Windows is displayed as not activated," Microsoft's support agent explains. "Our engineers are working tirelessly to resolve this issue and it is expected to be corrected within one to two business days," the agent responded, according to a post on Microsoft answers forum.
Windows 10 Pro downgraded to Windows 10 Home

In some cases, the valid license of Windows 10 Pro has been downgraded to Windows 10 Home but at the moment this is an isolated behaviour.
It's a bug experienced on Microsoft's activation servers and the software giant is already working on a solution. It's likely that everything will return to normal in just a few hours or it may take several hours in some regions.
Microsoft hasn't offered any working to address activation issues with Windows 10. For now, you will have to wait until the fix is deployed.