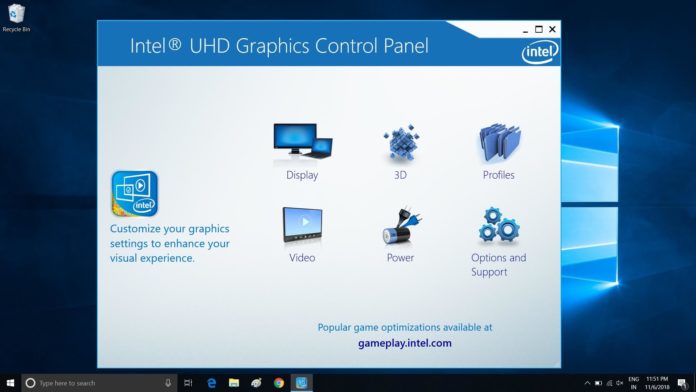 Intel today released a new graphics driver update that brings it to version 25.20.100.6373. The new driver update is available for users who are having the sixth, seventh and eighth generation of Intel processors.
The update is also available for Windows 10 users with Intel HD Graphics 500, 505 or UHD Graphics 600 and 605 along with Intel HD Graphics P530. The most important thing the update brings is the support for football management title Football Manager 2019.
The graphics update also adds support for NBA 2K Playgrounds, SoulCalibur VI and more. There is a new audio driver with version 10.26.00.01 included in the latest update.
What's fixed and improved
Intel's latest graphics driver update has improved Game Performance and Optimizations for Warhammer especially on 6th Generation Intel processors or higher. The update also comes with Display Quality Improvements if Multi-Display Setups are enabled.
There are also some PowerDVD improvements along with fixes for playback and Vulkan memory optimizations. User earlier reported of crashes in Naruto to Boruto. This issue has now been fixed in the latest driver update.
Screen flickering issues were found when used in low brightness levels and DPST enabled. This has now been fixed with the latest update. There are also a number of fixes for the Stereo 3D issue on Windows 10 April 2018 Update and the Display Pattern button not showing up in Intel Graphics Control Panel when Bezel Correction is enabled.
Intel has also issued a small list of known issues which should be noted before downloading the driver update.
Known Issues:
Users will notice crashes in FIFA 19 and other games.
Minor Graphics anomalies may be observed in NBA 2K19 and other games.
Windows Advanced Display Settings may show incorrect bit-depth on some primary monitors which lead to inaccurate colors.
The driver update is available on Intel's website to download it manually along with the full list of supported devices. You can open Intel's Driver & Support Assistant app and grab the updates automatically or you can download it manually from Intel's website here.