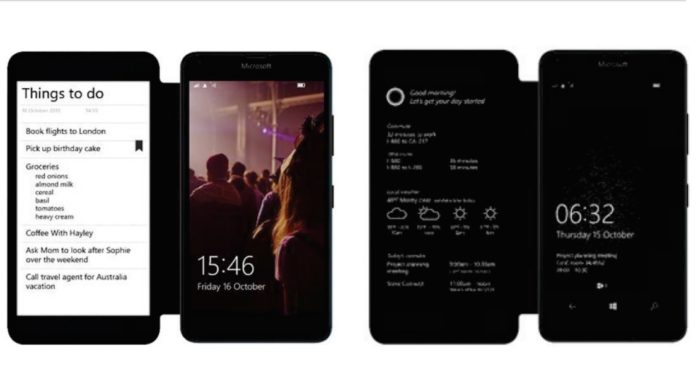 A document published by Microsoft Research team shows that the the company has designed a e-ink display cover for smartphones that would bring secondary display to smartphones. Such a cover would improve the potential of the devices.
Probably the most interesting and somewhat surprising, feature of the innovative display cover for phones is support for e-ink. The e-ink display cover in the question is fully integrated with a Lumia 640 smartphone and is less than 3mm thick. It uses Alcantara
fabric, a soft-touch fabric seen on Microsoft's Surface lineup.

The e-ink display module and touch buttons are on the printing house for a better experience.

"Our prototype uses a pre-existing flexible e-ink display module. For expediency we didn't integrate a touch overlay; instead we incorporated five touch 'buttons' at the bottom of the display. The touch buttons and display connect to interface circuitry added to the rear of the phone – a Lumia 640 – via flat-flex cables which run through the flip cover 'hinge' along with a bend sensor. The cover itself consists of a bezel of soft-touch fabric which is heat-bonded to the display and to the rear surface of Alcantara using custom-made heated tooling," Microsoft explains in its research document.
This is a research by Microsoft and the company may never launch such a cover. The cover is a solution to improve productivity and convenience, and explore a way which allows users to be more productive.