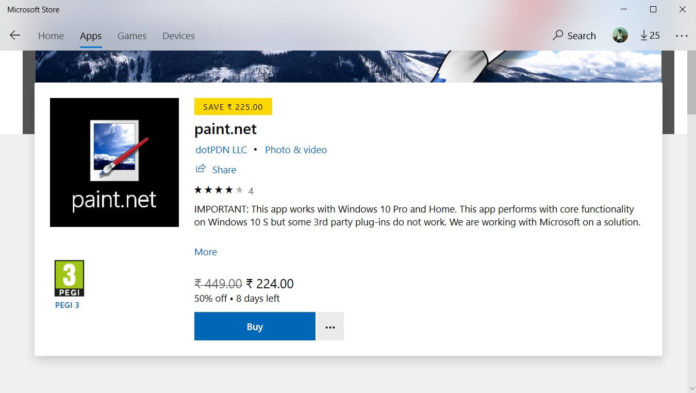 If you consider that Photoshop is too difficult and MS Paint is too simple to work, you might want to try Paint.NET, a powerful and free image editor for Windows developed on the .NET Framework platform.
Earlier this year, the developer of the Paint.NET app published the app in the Microsoft Store for Windows 10 and today the image editor is getting a big update. The update is available for the Win32 app and the Microsoft Store version.
Paint.NET 4.1 comes with a bunch of new features and a series of fixes to improve the overall user experience.
First and foremost, if you're using the Paint.NET Microsoft Store edition, you will receive the update in the coming days. For those who use the classic Win32 app, you can open the Paint.NET app and navigate to Settings -> Updates and manually check for updates.
"This update converts some effects to use the GPU for rendering, resulting in huge performance gains. Copy/Paste can now be performed on selections, Bicubic resampling is now available for the Move Selected Pixels tool, and there are lots of little quality-of-life improvements and general bug fixes," the developer writes in a blog post while announcing the update.
You can find the changelog below:
GPU-powered Effects: The developers have rewritten the effects to use Direct2D's image processing system. In simple words, you will notice performance improvements while implementing the effects.
Copy/Paste for Selections. You can now copy the active selection to the clipboard, as well as paste from the clipboard to the active selection (all selection combine modes are supported).
Bicubic resampling for the Move Selected Pixels tool. This can produce much higher quality results than Bilinear resampling.
New +/- buttons for Tolerance and Hardness. This is a great quality-of-life improvement, especially for the Magic Wand when you're trying to find just the right value for Tolerance.
If you're interested, you can download the Paint.NET app from here. The Microsoft Store edition of Paint.NET is available here.