Yesterday, Firefox announced that the Firefox Nightly is getting a new update that enables support for FastBlock feature by default. The feature is currently live on Windows devices and it's enabled by default.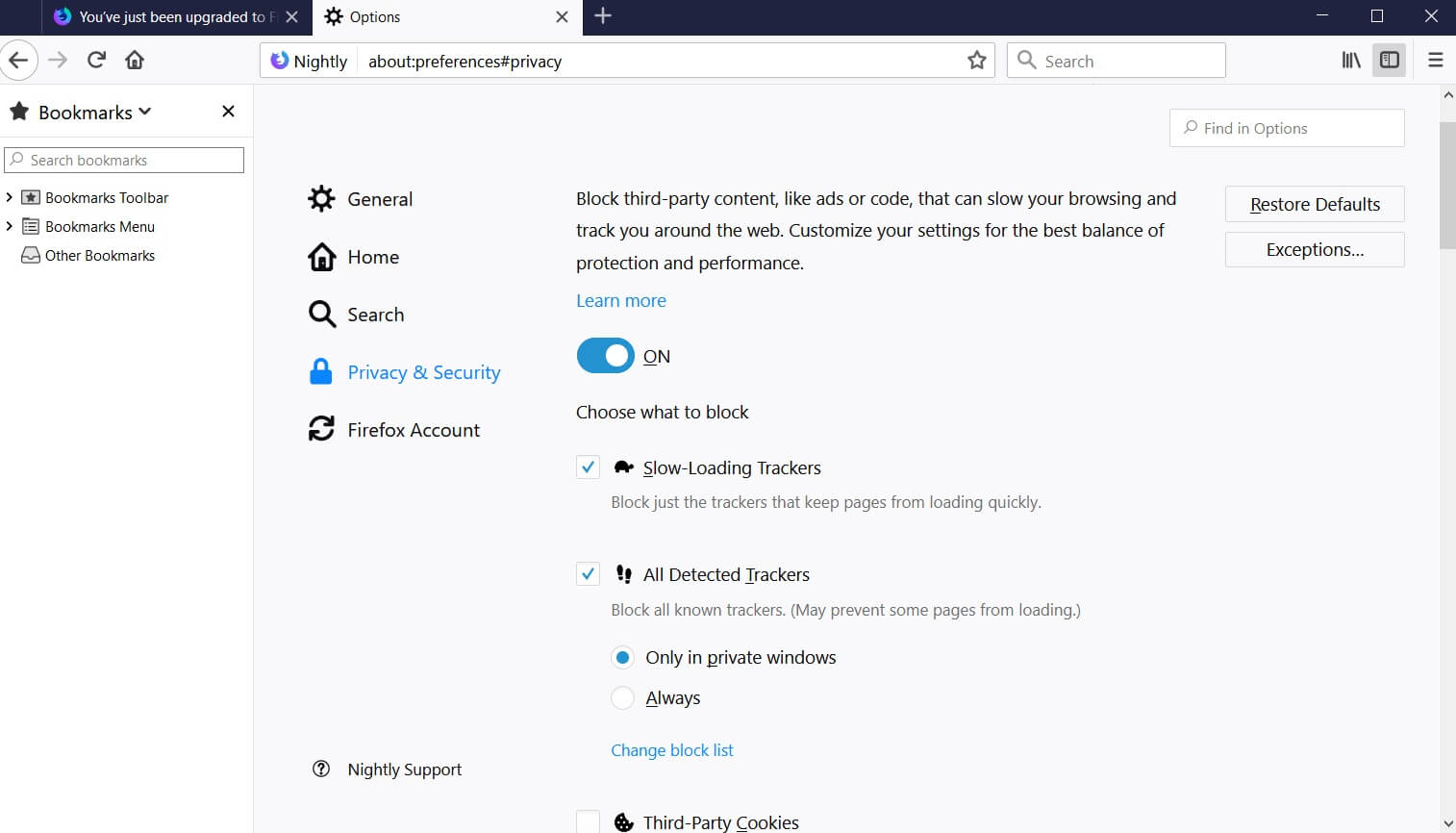 You can disable it by unchecking "Slow-loading trackers" in Preferences -> Privacy & Settings -> Content Blocking.
The FastBlock feature (improving Firefox page loading performance by restricting the loading of trackers) was enabled by default this morning for the Nightly channel https://t.co/jPdNJbDF3y

— Firefox Nightly (@FirefoxNightly) September 4, 2018
Firefox 62 is now available
Mozilla today is releasing a new and major update for its Firefox browser for Windows. The new version 62 is currently rolling out and should be available in a few hours for Firefox users on all platforms.
The latest update brings with it major new changes like Sync improvements along with allowing users to remove data like history and more once they have disconnected from the service.
Mozilla has added new options to toggle the Tracking protection on and off to the hamburger menu and a three-pane Inspector in Developer Tools, which now has its own panel for rules.
Mozilla has also improved the New Tab configuration screen for regular users with the new tab page now configured to display top sites, highlights and Pocket data. You will also be able to select how many rows of data can be displayed or shown after updating to the new version.
A new option "Clear Site Data and Cookies" has now been added next to the address bar which allows users to delete the data for the loaded website, meaning you will now be able to delete data for one specific page instead of deleting the entire browsing session.
The company has also made improvements to the browsing experience along with introducing small refinements to the description field of bookmarks. With the latest version, Mozilla has made sure to improve the overall experience of the browser.
Mozilla has just started the rollout of the latest Firefox version 62 and it should hit your devices in a few hours. Make sure to leave your thoughts on the latest features in the comments below.