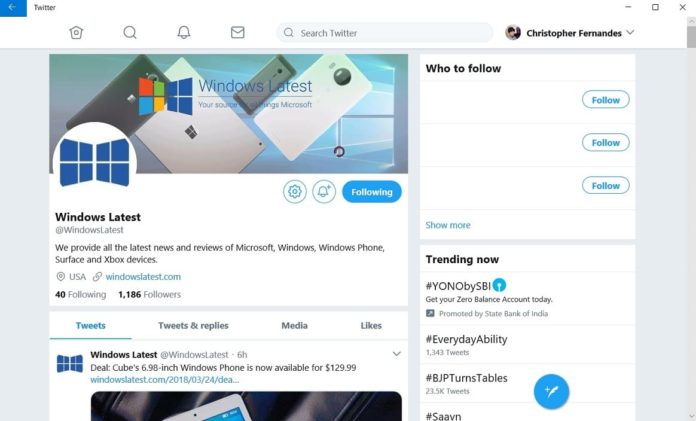 Twitter has been one company which has been continuously supporting the Windows Platform. The social giant launched its PWA application for Windows 10 users some time ago and has been regularly pushing out new features to the application.
The company has again pushed out some new features to its PWA app for Windows 10 users. Since the PWA's get the features via a server update, you will not see any update in the Microsoft Store.
One of the important feature that was missing from the Twitter PWA is the integration of Feedback Hub with the application. With the latest update, Feedback Hub integration is now finally available for the Twitter application on Windows 10 devices.
The company also introduced a secondary inbox for Direct Messages where in users will now see messages from users you don't follow in a separate Message requests tab. You will have the option to either accept or decline the DM request.
For Desktop users videos will now autoplay while scrolling up or down. You would need to enable this feature by going to Settings and Privacy>Data usage>Video autoplay. Another new feature added is usesr will now be able to use a new suite of keyboard shortcuts on the desktop. You will be able to get the keyboard shortcuts by pressing the "?" key.
Twitter has made some improvements for users on touch devices, with the tweet action bar and close button now overlayed over the photo in media viewer. This change will result in less wasted space and a larger image display.
The company has been regularly adding new features to the Windows 10 PWA application. The previous update introduced the Windows Timeline support along with the ability to upload videos. Users will also be able to attach videos up to a limit of 15MB in a tweet.
The latest update to the Twitter PWA is a server side update and you will see the new features once you open the application. Do let us know your thoughts in regards to the new feature introduced in the comments below.