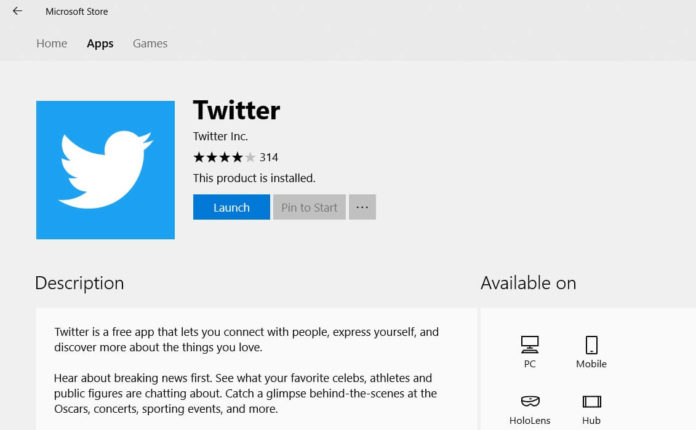 Social media giant Twitter recently launched its new Progressive Web App (PWA) on the Microsoft Store for Windows 10 devices. Twitter PWA is a web app that works across all devices including the web, Windows 10 and Android. Unlike the old UWP app, Twitter PWA for Windows comes with a ton of features such as extended character limit, the ability to bookmark tweets and faster updates.
Twitter has quietly pushed a new update for its PWA on Windows 10 and Android. The update comes with the long overdue features including Windows Timeline support.
According to the changelog published within the Twitter PWA, the live events or moments viewed by the users will be added to your Windows Timeline so you can access it later from any Windows 10 device. The app has also picked up the ability to upload videos and you can now hover over the profile to see the card in detail.
You can find the official changelog of the latest update below:
Viewing live events or moments will add an entry to your Windows Timeline so you can easily return later to see updates.
Videos can now be attached to tweets (limit 15MB).
Links to Twitter.com from Edge will now open in the app.
You won't need to download any updates from the Microsoft Store, as PWAs are updated automatically. PWA is a great initiative and it's clear that the features will come to the Twitter for Windows app faster than before.
Earlier this year, Microsoft added Progressive Web Apps support to Windows 10 and Microsoft Store and the company remains committed to this initiative. Microsoft is using its own search engine Bing to crawl and index the PWA in the Store. For example, the software giant recently published six PWA in the Windows 10 App Store.
While PWAs aren't native apps but they come with certain native app functions like push notifications. For example, a PWA on Windows 10 supports native share interface.
Recently, the is a peer-to-peer ridesharing service Uber the old UWP app with a newer Progressive Web app (PWA) version for Windows 10. While it's a wrapper for the mobile website, the new app is fast to load and has basic functionality for booking a ride.