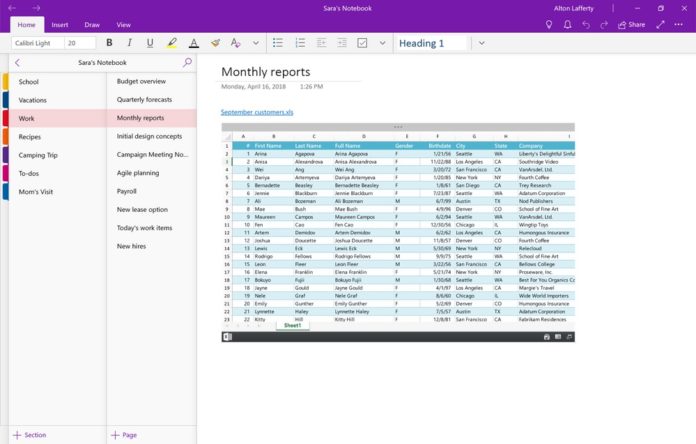 Microsoft is rolling out a new update to OneNote UWP app with some refinements. Microsoft is revamping the menu and it has been aligned with the one featured in Office 2019 apps. The software giant is allowing the Insiders to test the features before everyone else and you can test it by enabling the experimental features in OneNote.
This update has prepared the UWP app for the Office 2019 release and the new interface for OneNote is more productive. The update will be released for the general public when the Office 2019 productivity suite becomes available.
Microsoft earlier this year announced that the OneNote's old desktop app will be replaced with a new modern UWP and it will be bundled with the Office 2019 suit. OneNote's UWP app is somewhat better than the old desktop app and has already reached its maturity.
It boasts all the features available in the desktop app and the updates are delivered via Microsoft Store, which is another plus point.

"Beginning with the launch of Office 2019 later this year, OneNote for Windows 10 will replace OneNote 2016 as the default OneNote experience for both Office 365 and Office 2019," Microsoft said in a blog post.
"While we're no longer adding new features to OneNote 2016, it'll still be there if you need it. OneNote 2016 is optionally available for anyone with Office 365 or Office 2019, but it will no longer be installed by default," the company explains.
What you can expect later this summer:
Tags: OneNote UWP will let you insert, create, and search for custom tags. Microsoft says that the tags feature would make it easy to mark key information and find it later.
View, edit files and work together on attached documents.
The Class Notebook features will be added to the UWP app.
Microsoft Office 2019 is projected to launch later this year and the UWP version will become the new default OneNote app replacing the old desktop version. It's worth noting that you will be allowed to continue running the desktop version of OneNote.