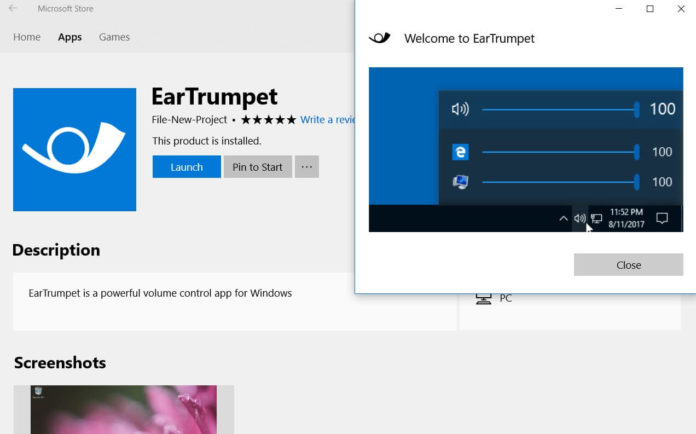 Windows 10 is one of the finest version of Microsoft's desktop operating system, and it brings visual makeover to the tinest parts of the OS. The volume control UI, which can be accessed from the taskbar, also comes with a modern look but truth to be told, Windows 10's volume controls aren't that special.
Windows 10 volume controls are very basic, for example, you can only set the volume for the default speakers you're listening to and do a few other things. While the modern UI for the volume controller looks good and the features updates have brought more improvements in this regard, but the volume controller still needs refinements.
In Windows 10, you can assign the apps sound to a specific audio system, but you've to do that manually for every single app. The well-known developers David Golden and Rafael Rivera worked together on a new version of EarTrumpet, which brings a better volume control to Windows 10.
EarTumpet is a must-have replacement for Windows' taskbar audio control. It basically allows you to control the sound coming out of your audio devices, directly from your taskbar.
With EarTumpet, you can easily change the volume of multiple audio systems from the taskbar by using the mouse wheel. It also supports the multi-channel peak metering, enhanced app session grouping, keyboard shortcut and other features. Windows 10's default volume controller is not even close to EarTrumpet.
EarTrumpet offers both advanced and prettier view of the sound that's coming out of your various audio devices. You can reassign different apps to different audio outputs, for example, you can assign the games to play sound from the headphones, and let Groove Music play sound from the primary audio system.
It's a UWP app available in the Microsoft Store for Windows 10 desktop. Once you've launched the app, you would need to look for the EarTrumpet audio icon in the taskbar and click on it to access the advanced audio control panel. It's worth noting that there will be two audio icons, so you would need to hover your mouse over the audio icons until you find the EarTrumpet.
You can download EarTrumpet from here.