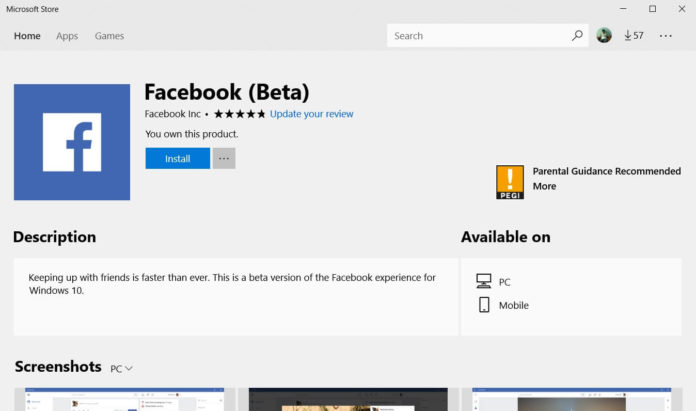 Facebook launched its own Windows 10 app for PCs in 2015, and later for Windows 10 Mobile in 2016. The social media company recently stopped updating its apps for Windows 10 devices but Facebook is suddenly paying more attention to its Windows 10 app and the Messenger.
Today it appears that some users are seeing an updated version of Facebook Beta in the Microsoft Store (formerly Windows Store).
Certainly, this is a good news for those who use the app on Windows 10 over the web version. The update is still rolling out, so we can't guarantee that it's available for everyone in all regions. As noted above, the updated app is only available for beta users.
Facebook Beta for Windows 10 updated to version 171.1715.2280.0, and it comes with UI changes, new features and performance improvements.
It appears that Facebook Beta for Windows 10 finally supports post themes or coloured background option. With this feature, Facebook is trying to make highly personal text statuses as eye-catching as photos. Users can select a colour, and it would appear behind their text status, replacing the white background.
The update also introduces the following changes:
You can now upload gifs, create polls, ask a question.
UI changes: Search bar and notification icon tweaked. Facebook has also updated the dialog for nearby friends feature, and icons for Like, Share and Comment.
New profile page: You can add a biographic, and edit the other sections.
You can now react to comments.
Performance improvements and bug fixes.
It does seem that Facebook has finally started paying attention to its Windows 10 app and the Messenger, which also received new features and improvements.
As noted above, Facebook's Messenger beta app for Windows 10 also received new features last month. For example, you can react to messages, customize the experience with new settings interface, watch contents in HD, search stickers and more.
Facebook for Windows 10 is designed to offer the best experience on the platform, and it supports all the native APIs including Live Tiles, which allows you to quickly see new photos, messages from the start menu. Facebook is however not committed to its app for Windows 10, and the updates are released once in a while.