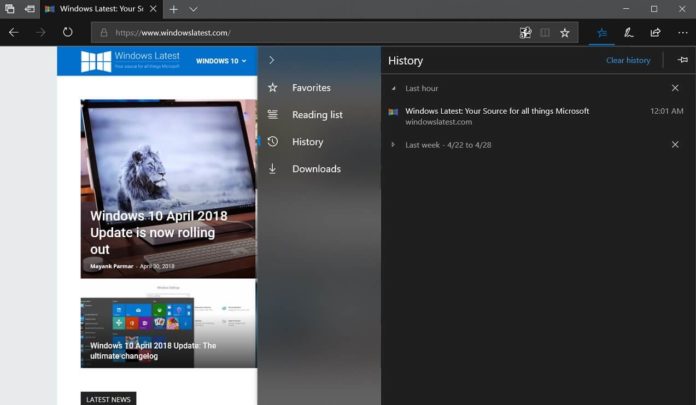 Microsoft rolls out improvements for Edge at a rather slow pace and the browser is getting better with every release. Microsoft Edge is getting most of the love in Windows 10 April 2018 Update. The company last week announced the new features that the extensions in Edge browser have received with the latest version of Windows 10 operating system.
Microsoft Edge replaced Internet Explorer in 2015 with Windows 10. The browser receives improvements and features only when Microsoft ships a new version of Windows 10 operating system. In other words, the Edge browser is updated twice a year, but the security fixes are pushed twice a month. On the other hand, the third-party browsers such as Google Chrome and Mozilla Firefox benefit from a faster release.
The extension feature in Edge is getting a major update with Windows 10 version 1803. The company says that Windows 10 April 2018 Update includes new features, APIs and for browser extensions.
First and foremost, the extensions can now be enabled in InPrivate browsing. Additionally, the update also brings support for notifications API for extensions. It means that the extensions can display the notification with interactive controls.
"Beginning with this release, users can now choose to allow extensions to run during inPrivate browsing on a case-by-case basis – either when the extension is initially installed (by selecting the 'Allow for inPrivate browsing' checkbox), or at any later time by visiting the Settings page for a given extension," Microsoft said.
Microsoft says that the future releases will include more improvements for Edge, and Windows 10 Redstone 5 update is also expected to bring more refinements and features in this regard.
For example, the latest Windows 10 Build 17677 includes a new and improved settings menu in Edge browser. Microsoft is using icons in the menu that can be accessed from the pivot (three-dots), and now it's significantly faster to find an option that you're looking for.
Microsoft Edge is also getting support for Jump List which means that you can right-click the icon in the taskbar to access to the most visited sites. You can try the aforementioned changes by joining the Fast Ring of the Windows Insider program, but don't install the preview builds on your primary device. Microsoft Edge will continue to evolve before the public release of Redstone 5 update in October.