Back in 2008, Microsoft was internally testing a tablet PC with two displays, and the device would have featured a booklet design. The two displays with touch support faced each other in a booklet form and it also supported stylus (pen). Microsoft did work on Courier but the company never released it in the market.
While Microsoft is working on a new mobile device similar to the Courier digital Notepad concept, but the company has always remained tight-lipped on the original and cancelled Courier tablet. At Build 2018 developer conference, Microsoft revealed what exactly happened to the Courier project.
The operating system of the Microsoft Courier was reportedly a custom version of Windows. Steve Ballmer decided to cancel such a device "because it didn't have a clear platform or developer story".
"The reason Courier got killed was that it was another side project, it was another thing we were playing with and it didn't have a clear developer story or clear platform story," Friedman said.
In other words, Courier was cancelled because it ran a custom version of Windows, and it didn't align with Microsoft's vision.
The rumoured device would have featured seven-inch screens when the book was closed. The Courier was a secret project and existence of such a device was only known by a few key engineers. In 2010, Microsoft officially confirmed that they were working on Courier but the company ultimately cancelled the project.
The Courier could have been the ultimate device for creators – as it featured two dual display, journal design and stylus.
Surface Andromeda – The future of mobile computing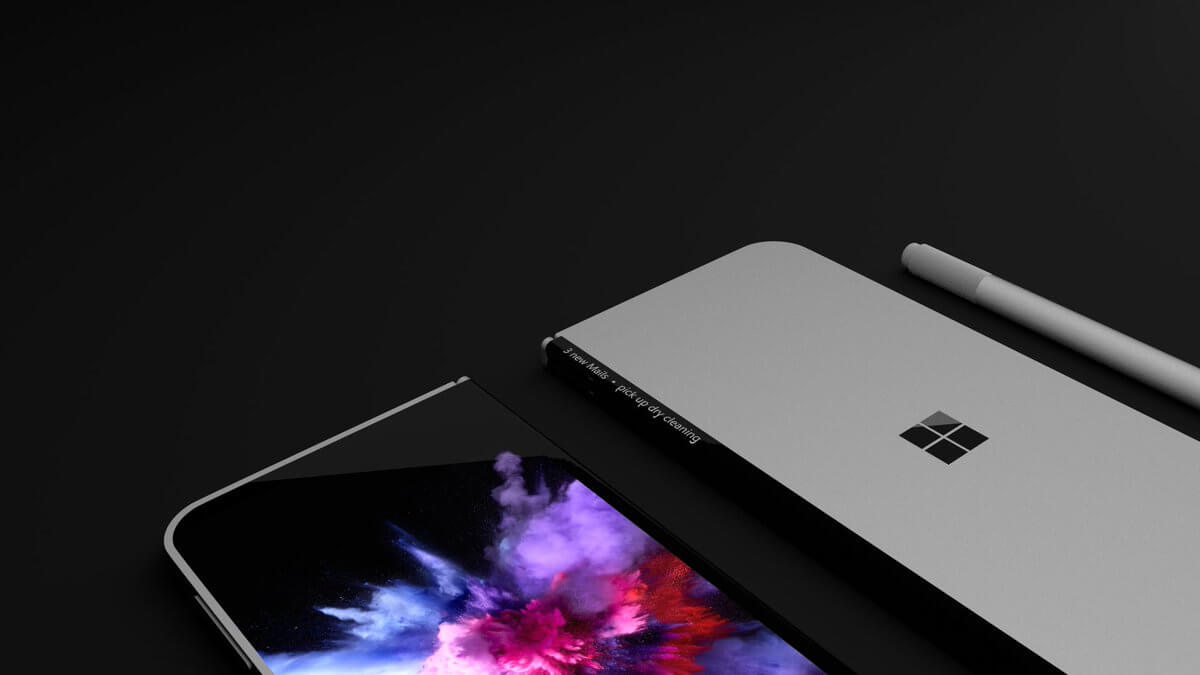 While Microsoft hasn't discussed the rumoured Andromeda at Build 2018, the company is still working on such a device. The Andromeda (also referred to as Surface Phone by many) is a project similar to Courier concept. The company is also working on series of improvements for Windows 10 in order to deliver the best experience on Andromeda.
The eagerly-anticipated Andromeda could be similar to the Courier concept, and the operating system will be optimized to run on this device with multiple modes. It certainly makes sense as the device could come in the form of a digital notepad with a foldable display. Microsoft will be using a hinge to enable foldability and it could also feature several form factors including phone and laptop modes.
With Andromeda, Microsoft is reportedly embracing the same strategy as with the Surface laptops. The Andromeda would be a premium device and it could convince Microsoft partners to bring similar models to the market. However, remains to be seen if Microsoft's Andromeda could bring similar projects from the partners or not.
In the past few months, several patents have revealed the rumoured design of Andromeda and there's a good chance that the final version of such a device will feature a hinge. Needless to say, the hinge would be the key component, as it happened before on the Surface-branded laptops.
With Andromeda, Microsoft is also betting big on the Windows ecosystem. The new version of Windows 10 called Windows Core OS will offer a modular experience, and it will offer a similar look and feel across on any form-factor device. Microsoft is using Composable Shell (C-Shell), an adaptive shell to deliver a modular experience.
Microsoft is basically trying to invent a new project category but it remains to be seen if the Andromeda can succeed or not. It's not yet known if Microsoft is also pursuing a phone form factor or not. Rumours that have been swirling around the web suggested that Andromeda could see daylight rather sooner than later.